8-Day of Guilin, Chengdu, Jiuzhai Alley Natural Scenery Tour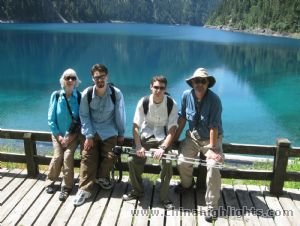 Highlights:After enjoying the breathtaking landscape along the Li River in Guilin, continue your trip to Chengdu to visit the Giant Buddha in Leshan, Temples on Mt. Emei and the picturesque scenery in Huanglong and Jiuzhaigou including the Tibetan villages. This is the ideal trip for lovers of outstanding natural landscapes.
Destination: GuilinYangshuoChengduJiuzhaigou
Guide Languages:
Inclusions:
Private Guides
Driver
Hotels
Entrance Free
Authenic Chinese Meals
Day 1
Guilin Arrival
Airport/Train Station/Port to Hotel Transfer

Day 2
Guilin
Minority village and Longsheng Terraced Field

-
Minority village and Longsheng Terraced Field
: The Longji Terraces are built into the steep mountain range named "The Dragon's Backbone" about 2 hours from Guilin. The terraces look like ribbons as they wind from the foot to the top of the mountain. This ingenious construction makes best use of the scarce arable land and water resources in the mountainous area. There are about 66 square kilometers of terraced fields in the district. The Terraces were first built in the Yuan dynasty and completed in the Qing dynasty by the Zhuang people. Zhuang and Yao minority villages dot the area and feature traditional unique architecture where no nails are used in construction. The different minority customs and dressing styles are especially interesting. Sedan chairs are available from the parking lot to the top of the mountain for customers who would like to see the great views but fail to climb all the way up to the top, it takes about CNY350 per person for the round trip.
-
Longji Ping'an Restaurant
: Ping'an restaurant is one of the popular restaurants in Longji terrace, which is located half way up of the terrace field and will take some steps to get there. The restaurant mainly serves Guilin local dishes and is especially famous for roasted Bamboo Rice and fresh vegetables.
Longsheng Terrace
Day 3
Yangshuo
Li River Cruise from Guilin to Yangshuo. ,Yangshuo Countryside Cycling

-
Li River Cruise
: A cruise along the Li River between Guilin and Yangshuo is an unforgettable experience. As you take in the stunning scenery there's something interesting to see at almost every bend in the river. Between spectacular limestone peaks you'll see graceful bamboo groves, farmers tending rice paddies, and lumbering water buffaloes pulling carts or cooling off in the river. You may see fishermen gliding along on their narrow bamboo rafts, and if you're very lucky you might see one of the famous fishing cormorants. Boats depart from various wharves, according to the height of the river at different times of the year.
-
Yangshuo Countryside Cycling
: Experience the hustle & bustle of the Yangshuo traffic for 10 minutes before you escape onto the country roads, lanes and tracks of the distinctive and beautiful Yangshuo countryside. Biking alongside the paddy field and orchards that surround the famous mountains will give a fascinating insight into life in rural China. You will have a family visit on the half way. It is an opportunity to see a real country life and talk to the local farmers.
Yangshuo

Li River
Day 4
Guilin to Chengdu by Flight.
Reed Flute Cave,Fubo Hill,Elephant Trunk Hill

-
Reed Flute Cave
: Located 5 kilometers northwest of Guilin city, the Reed Flute Cave gets the name from the reeds used for making flutes and pipes that grow at its entrance. The cave is regarded as the largest and most impressive cave in Guilin. It is 240 meters long, and the length of the tour is about 550 meters offering a magic land of stalactites, stalagmites, stone pillars, stone curtains, birds, plants and animals in fantastic shapes and colors. The visit lasts for 40 minutes and there are a lot of steps. Watch your step as the lights are dim. You guide will show you by electric torch.
-
Fubo Hill
: Fubo Hill is on the west bank of the Li River in the city center. Partially submerged in the river it was named after General Fubo of the Tang Dynasty who built Mayuan Temple on the hill. Because of its location and height, Fubo Hill can tame the waves and stop the surging waters which then form whirlpools. It is 213 meters above sea level and 62 meters above ground level. There are almost 350 steps to climb to reach top of hill and but then you can enjoy a birds eye view of Guilin city.
-
Elephant Trunk Hill
: Elephant Trunk Hill is located at the junction of Li River and Peach Blossom River. It is the symbol of Guilin with 55 meters high and got its name because its shape resembles an elephant with its trunk drinking from the Li River. The hill is pierced with many caves and topped with a small pagoda.
-
McFound Restaurant
: A restaurant which decorated in traditional northern style, with wheaten food of full aroma and household atmosphere of authentic culture, is warmly welcome for customers.
Stairway at Reed Flute Cave

Fubo Hill

Elephant Trunk Hill
Day 5
Chengdu
Panda Breeding and Research Center,Wu Hou Temple,Chengdu Kuan-zhai Lane,Jinli Old Street

-
Panda Breeding and Research Center
: Home to giant pandas, red (or lesser) pandas, and other endangered species. Visit the nursery to see the highly successful breeding program, bamboo groves and shady walkways, to view the pandas at rest and play. There's a wealth of information and a panda museum in this 230-hectare park 10 km (6 miles) north of Chengdu.
Note: The Panda Breeding and Research Center has a donation program which allows you take pictures with holding an adult panda by donating RMB500 or holding a baby panda by donating RMB1000. This program is subject to the availability of pandas on that day. Please bring RMB cash as they don't accept credit cards.
-
Wu Hou Temple
: The Marquis of Wu, Zhuge Liang (181-234) was the outstanding military strategist immortalized in "The Romance of the Three Kingdoms" and in the saying wise as "the Marquis of Wu". Peaceful and attractive gardens surround several halls, including one dedicated to his memory and another to that of his emperor Liu Bei, some impressive statues, a small museum, a famous Tang Dynasty stele and the classic red wall leading to Liu Bei's tomb. A delightful complex.
-
Chengdu Kuan-zhai Lane
: It is a part of the old city in Chengdu which has been restored and renovated. This is a chance to see old Chengdu and experience the traditional lifestyle. It features Western foods and drinks, take-aways, coffee and art.
-
Jinli Old Street
: Once the commercial heart of the old kingdoms this ancient street has been fully restored in traditional Sichuan style. Picturesque, bustling, and cheerful, you can sample local arts and craft, traditional Chinese goods, food and delicacies, and even a Starbucks, local style.
-
Chengdu Ba Guo Bu Yi Restaurant
: Ba Guo Bu Yi is located nearby Wu Hou Temple. The restaurant serves authentic Sichuan food with its traditional Chinese style decorations. It is an old and famous restaurant, which is very popular with local people. Favorite dishes include Peppery chicken, braised beef tenderloin, and fried carp in squirrel shape.
Panda Center

Wuhou Memorial Temple

Kuanzhai Alley
Day 6
Chengdu to Jiuzhaigou by Flight.
Huanglong Chair Lift(Up),Huanglong Scenic and Historic Interest Area

-
Huanglong Scenic and Historic Interest Area
: Huanglong is located on the easternmost of Qinghai-Tibet Plateau. It belongs to Songpan county, Aba Tibetan and Qiang autonomous prefecture, Sichuan province. It is 300 kilometers far away from Chengdu, the capital of Sichuan province. And Jiuzhaigou Valley is as its neighbor. It is close to the boundary of Sichuan, Gansu, and Shanxi province.
The whole interest area looks like a golden dragon by overlooking. That is the reason why the place calls Huanglong, which means a golden dragon in Chinese. Huanglong is over 300 kilometers far away from Chengdu. The main area is consisted of Huanglong Valley, Danyun Valley, Red-star Cave, Xuebaoding, Mouni Valley, and Songpan Ancient City, etc. The total area occupies 1340 square kilometers. It is famous for "the colorful ponds, the beaches, the snow-capped peaks, the valleys, the ancient temple, and the folk customs". Therefore, Huanglong Scenic and Historic Interest Area is accredited as "the paradise in the earth".
Huanglong Scenic and Historic Interest Area is located at the foot of Xuebaoding Hill, the major peak of Minshan Mountain, Songpan county. The interest area is a valley with 7000 meters in length, and 300 meters in width. Over 3400 natural ponds scatter there. Some ponds are big with area of over one Mu, while some are as small as basins, or bowels, or even as small as cups. The walls of the ponds are golden, as if they were made of gold. The water in those ponds is colorful and clear.
On every July 12th to 15th, there is the grand Huanglong Temple Fair. Huanglong Scenic and Historic Interest Area together with Jiuzhaigou Valley Scenic and Historical Interest Area are the two shining pearls in the West-Sichuan Plateau. In 1991, they were listed on the category of the world natural heritage by UNESCO.
Day 7
Jiuzhaigou
Sight-Seeing Shuttle Bus,Jiuzhaigou Valley Scenic and Historic Interest Area

-
Sight-seeing Public Vehicle in Jiuzhaigou Valley
: It is public transportation capacity:28-47seats.During the travel season, it is quite crowded.
-
Jiuzhaigou Valley Scenic and Historic Interest Area
: Jiuzhaigou Valley Scenic and Historic Interest Area gained a name of "the beautiful world". And it was listed on the category of the world natural heritage by the UNESCO. Because of its inconvenience of the traffic, it is a peaceful place without any noise from the outside world. There are only 9 Tibetan villages in the valley. That is why it calls Jiuzhaigou, which means 9 villages in the valley in Chinese. The primitive natural scenery is preserved well here. It is said that there is no other place as peaceful as in Jiuzhaigou all over the world.
Jiuzhaigou Valley
Day 8
Jiuzhaigou to Chengdu by Flight.
Hotel to Airport/Train Station/Port Transfer

Price Per Person in US Dollars
Price Includsion
Entrance Fees to scenic spots as listed in the itinerary.
All meals as specified in the itinerary.
Centrally Located Hotels with daily western & Chinese buffet breakfasts.
Authentic Chinese Food.
Private Cars and Drivers.
Private Guides.
Flights & Transfers in China.
Airport Taxes and Fuel Fees.
Service Charge & Government Taxes.
Insurance
Luggage Transfers
Price Exclusion
International Airfare or Train Tickets to enter or leave China.
China Entry Visa Fees.
Excess Baggage Charges.
Personal Expenses such as laundry, drinks, fax, telephone calls, optional activities which are not included in the tour itinerary.
Any meals which are not specified in the tour itinerary.
Single Room Supplement
Customer Reviews and Question
What our Customer Say
Ask a Question?