8-Day China Essence City Group Tour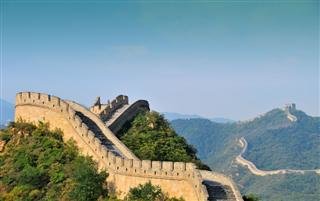 Introduction: This is the essence of China. See extraordinary Great Wall, Terracotta Warriors and Horses and the Bund in 8 days experiencing our quality service all the way.
Need more information ?
Ask the tour operator questions about this tour and get reply within 1 working day!
Day 1
Place & Transport: Arrive in Beijing, Flight not included
Today's Activities: Airport Transfer (Beijing)
Day 2
Place & Transport: Beijing
Today's Activities: The Forbidden City, Tiananmen Square, Kungfu Show in Red Theater, Temple of Heaven, Pearl Store
Meals: Breakfast, Lunch
- The Forbidden City: The Forbidden City was home to 24 emperors between 1368 and 1911.This "city within a city" is a World Heritage Site, and is the largest and the best preserved ancient imperial architecture complex in the world, with great square, halls and gates contrast with intricate halls, gardens, courtyards and quarters. The exhibitions, both permanent and temporary, are all important treasures of ancient China.
- Tiananmen Square: Tian'anmen Square is the largest city square in the centre of Beijing, named after the Tiananmen (literally, Gate of Heavenly Peace) which sits to its north, separating it from the Forbidden City. It has great cultural significance as it was the site of several key events in Chinese history. As the world's largest city square and enduring symbol of China's national pride, it is surrounded by many imposing buildings including the Heavenly Gate (entry to the Forbidden City), Museums, government buildings and Chairman Mao's Mausoleum.
Kungfu Show in Red Theater: Here you can enjoy fantastic The Legend of Kungfu presented by China Heaven Creation International Performing Arts Co.Ltd. (CHC) - China's leading performance art production company. CHC has collected a group of the best Kungfu practitioners of China and invited the best directors and designers of the country. The show is a must-see in Beijing for tourists and Kung Fu lovers.

Price: 17th-22nd Row (RMB280), VIP 5th - 7th Row (RMB680), 9th -11th Row (RMB380), 1st - 4th Row (RMB 280), 12th - 16th Row (RMB 280), Ordinary Seat (RMB 180)
Time: 7:30pm to 9pm
- Temple of Heaven: Built in 1420 during the Ming Dynasty, Temple of Heaven is a complex of Taoist buildings where emperors of Ming and Qing dynasties visited for annual ceremonies of pray for good harvests. Located in the south of Central Beijing, it covers an area of 273 hectares. Temple of Heaven was enrolled as a World Heritage Site by UNESCO in 1998.
Day 3
Place & Transport: Beijing
Today's Activities: The Badaling Great Wall, Sacred Way, Exterior visit of Beijing Olympic Stadiums(Bird's Nest and Water Cube), Changling tomb, Shahe Cloisonne Factory
Meals: Breakfast, Lunch
- The Badaling Great Wall: This very popular section, the first part of the Great Wall that was opened to the public, has been extensively restored. It climbs across superb mountain scenery 75km NW of Beijing. The battlements and watchtowers are high and steep in places, and provide wonderful views across the hills. Wear good walking shoes, and protection from the weather.
- Sacred Way : An attractive tree-lined walk which leads to the Ming Tombs, this is bordered by 12 sets each of animal and human statues, and includes the attractive Great Red Gate, housing a stele on the back of a tortoise, and marble memorial archway.
- Exterior visit of Beijing Olympic Stadiums(Bird's Nest and Water Cube) : Located at the north end of the central axis of Beijing City, with a large area of 1215 hectares, it contains National museum, exhibition area, Olympic Village and Olympic competition avenues. Approximately 31 venues are used in Beijing Olympics, including National Stadium, the Bird's Nest and National Aquatics Center. You will explore the park, but it doesn't include going inside the Bird's Nest and Water Cube.
- Changling tomb: Changling is the tomb of emperor Yongle,the third emperor of the Ming Dynasty whose personal name was Zhu Di, and of his empress. Built in 1413, the mausoleum extends over an area of 100,000 square meters and is the principal and best preserved mausoleum among thirteen mausoleums. There are color paintings on the ceiling and golden brick paved earth, which all added magnificent atmosphere to the palace.
Day 4
Place & Transport: Beijing to Xian, Flight No. TBA
Today's Activities: Summer Palace, Hutong Tour in Xicheng District, Hotel to airport Transfer (Beijing), Airport Transfer (Xian)
Meals: Breakfast, Lunch
- Summer Palace: Much-loved summer retreat of the Imperial families, the lovely landscaped gardens, halls, pavilions and corridors are set around the lake and rivers in natural harmony. It is the largest and best preserved imperial garden in China, and also a World Heritage Site.
- Hutong Tour in Xicheng District: Hutong is a maze of historic alleyways with old single storey traditional courtyard houses, which are now fast disappearing. In this one hour tour, you can hop on a rickshaw to ride through the narrow alleys as well as visit a local family then walk on the Silver Ingot Bridge (Yinding Bridge) and find out about the different thresholds of the courtyards.
Day 5
Place & Transport: Xian
Today's Activities: The Terracotta Warriors and Horses, Tang Dynasty Show, Fountain Square of Wild Goose Pagoda, Great Mosque, Xian Imperial Fine Arts center
Meals: Breakfast, Lunch
- The Terracotta Warriors and Horses: Discovered accidentally in 1974, this incredible army of over 7000 soldiers, archers, horses and chariots in full battle array has guarded Emperor Qin's tomb since 210BC. Each figure is unique, and the painstaking repair and excavation continues in 3 pits which are protected inside huge hangars. 1.5 hours from Xian, there is also an excellent museum and film about the history of the vaults. Photos (no flash) are allowed. Wear comfortable walking shoes.
Tang Dynasty Show: It's a must for each tourist to Xi'an to experience the local color and pageantry of Tang Dynasty Show in the evening. According to various historical records and ancient arts and relics discovered in Xian, the performance holds the mirror up to the music, dance and colorful costumes that are originated in the Tang Dynasty over a thousand years ago. Enjoy this stunning optical and acoustic feast and you will immerse in the glory and richness of the Tang Dynasty. Price: RMB 250
Time: 20:30
- Fountain Square of Wild Goose Pagoda: The square to the north of the Wild Goose Pagoda, ranking the biggest in Asia so far, was built in the last 5 years. The musical fountains operate for 20 minutes every 2 hours.It is splendid with music, lights and the background of the ancient Wild Goose Pagoda.
- Great Mosque: In the heart of Xian's Muslim quarter, close to the city centre, this is one of the largest Islamic mosques in China. Remarkable for the combination of Chinese architecture with Islamic practice, the courtyards align from east to west facing Mecca. The pavilions, halls and gateways are wonderfully decorated, and this is an active place of worship for the Hui descendants of Silk Road traders and travelers.
Day 6
Place & Transport: Xian to Shanghai, Flight No. TBA
Today's Activities: Ancient City Wall, Shaanxi History Museum, Dumplings Making at Han Tang Tian Xia Restaurant, Hotel to airport Transfer (Xian), Airport Transfer (Shanghai)
Meals: Breakfast, Lunch
- Ancient City Wall: The walls, ramparts, gates and watchtowers form one of the oldest and most complete city defenses still around. Built in the 13th century on the foundations of the original Tang Forbidden City, it s surrounding the city centre. You can walk or pay extra cost to rent a bike (CNY40 per person), rickshaw (CNY45 per person for 45 minutes) or an electric cart (CNY40 per person) around the full 14km circuit, with great views of the city on either side. If the weather is not good for biking on the city wall, we will substitute a visit to the Bell Tower. Your guide will be very glad to take you the Bell Tower after you have been to look at the city wall.
- Shaanxi History Museum: The history of Shaanxi is said to be the history of China, and this museum is quite simply one of the nation's best. Four major galleries in large, Tang-style buildings house a vast and impressive collection, beautifully displayed. Most of the item labels are in English, although some other information on the exhibitions is not, but your guide can help here. Wear comfortable walking shoes.
Dumplings Making at Han Tang Tian Xia Restaurant: Jiaozi or dumplings with meat and vegetable fillings are very popular during New Year Festival. It tops the list of delicacies preferred by people in Northern China. Our teacher will share some basic skills of dumpling making and then enjoy the fruits of your labor.

What happens during the class?

1. Full illustration of dumplings making by your tour guide.

2. Demonstration by the chef.

3. Learn to make different types of dumplings.

4. Taste dumplings prepared for you.

Time: 1
Day 7
Place & Transport: Shanghai
Today's Activities: Yuyuan Garden, The Bund, Shanghai Museum((Audio Guide included)), Shanghai Old Street, Nanjing Road, Jiangnan Silk Shop and Workshop
Meals: Breakfast, Lunch
- Yuyuan Garden: Yuyuan Garden is located in the center of Shanghai old quarters. It was a private garden built in 1559 during the Ming Dynasty, with typical Chinese classic architecture and style. The complex covers an area of 2 hectares, with rockeries, pavilions, ponds and corridors. Yuyuan Garden is surrounding by a busy market place, where visitors can find everything from popular local snacks, handicrafts, antiques and souvenirs to some famous time-honored restaurants.
- The Bund: This 1.5-kilometer-long embankment runs along the western bank of Huangpu River. On its west side it is the "architecture gallery" with 52 well-preserved old European style buildings. Once the major trading and commercial center of old Shanghai, the Bund has now taken on new vitality, with futuristic developments, chic restaurants, top end shops and bars offer plenty to see and do-and by night it's magic!
- Shanghai Museum((Audio Guide included)): The biggest, and many think the best museum in China. The galleries in this outstanding building display stunning collections of bronzes, sculptures, ceramics and porcelain, paintings, calligraphy, seals, jade, coins, furniture, ethnic artefacts from minority groups, temporary travelling exhibitions from places like the Guggenheim, and so much more ... give yourself time to enjoy it.
- Shanghai Old Street: The old quarters of Shanghai has some well-preserved old residential houses and narrow lanes, where visitors can get a glimpse of local people's life. Walking along the lanes would easily bring you back to the old days of Shanghai. There are also many shops and booths selling antiques, crafts and souvenirs.
- Nanjing Road: Nanjing Road is the most famous and busiest shopping street in Shanghai. From time-honored traditional Chinese brand stores to international designer boutiques, Nanjing Road is a shopping paradise where you can find everything. There are also many hotels, restaurants, theaters and shopping malls. It's a fascinating glimpse of modern, commercial China.
Day 8
Place & Transport: Depart Shanghai, Flight not included
Today's Activities: , Hotel to airport Transfer (Shanghai)
Meals: Breakfast
Tour Prices
Hotels
| | |
| --- | --- |
| City | Deluxe Class |
| Beijing | Dongfang Hotel Beijing |
| Shanghai | Kingtown Hotel Plaza Shanghai |
| Xian | Titan Times Hotel Xian |
Note:

1.Prices are in US dollars a nd valid between May 1st - October 31st, but may vary according to your travel time and tour availability (e.g.: Internal Labor's Day: May 1st -3rd; Chinese National Holiday periods: Sep 30th to Oct 7th). Contact us to save more.

2.If only one person is traveling then the single room supplement is not required. If, for example, three people book a hotel, with two in one room and one in another room, the single room supplement must be paid.
Price Inclusions:


Entrance Fees: To scenic spots as listed in the itinerary.

Meals: All meals as specified in the itinerary.If the restaurant indicated is not available on the day, your guide will arrange another restaurant from our list of approved restaurants. Breakfast is usually a western style buffet. We endeavor to ensure that a choice of western and Chinese breakfasts is supplied, however there may be occasions when only a Chinese breakfast is available in some remote locations.

Private Transfers: Transfers between airports, hotels and scenic spots while sightseeing in Guilin by private air conditioned vehicle with a driver and English-speaking guide (as listed above). Your comfort is our priority! Click here to get a description of the vehicles that we use for our tours.

Guide: As outlined in the itinerary an English-speaking guide and driver will be provided in each city, who will remain with you throughout your time in that city. A new guide and a new driver will meet you at each city on your tour, to provide you with the best local knowledge available.

Hotels: Hotel fees are based on two people sharing one room with twin beds. All hotels as listed in the above itinerary serve daily western or Chinese breakfast. All rooms are air-conditioned with private facilities unless specified.

Service Charge & Government Taxes: Insurance The insurance is China Life Tourist Accident/Casualty Insurance

Luggage Transfers: Between airports and hotels

Arrangements: The tour cost includes planning, handling, operational and communication charges.
Price Exclusions:
Personal Expenses: Expenses of a purely personal nature such as laundry, drinks, fax, telephone calls, optional activities, sightseeing or meals which are not included in the tour itinerary.

Meals: Any meals which are not specified in the tour itinerary.

Single Room Supplement.