Yangshuo Travel
Yangshuo is the terminal of the 65 kilometer-long Li River cruise tour and is a beautiful and sedate ancient city. The city has a history of more than 1,000 years.Some 1,600 years ago in the Jin Dynasty (265-420) the county seat was moved to Yangshuo from Xingping. Read More Information About Yangshuo facts>>
Facts:
Chinese Name: 阳朔
Location: South of China
Ancient Villages Around Yangshuo: Fuli, Xingping, Puyi, Liugong
Local Specialty: Yanghsuo is famous for its rich produce which includes sweet oranges, tangerine, pomelo, persimmon, chestnut and kumquat.
Best Way for Visit:Rent a bike cycling round Yangshuo to Yima or Yangshuo-Aishan, bamboo boat rafting in Yulong River, Li river Kayaking, stay in a guesthouse in the countryside, and etc.
How to get to Yangshuo:By bus from Guilin or by cruising on the Li River. Express buses to Yangshuo are available right at the bus terminal off Zhongshan Road. Starting at 7:00am, the busses depart close to every 20 minutes and cost an affordable 20 Yuan.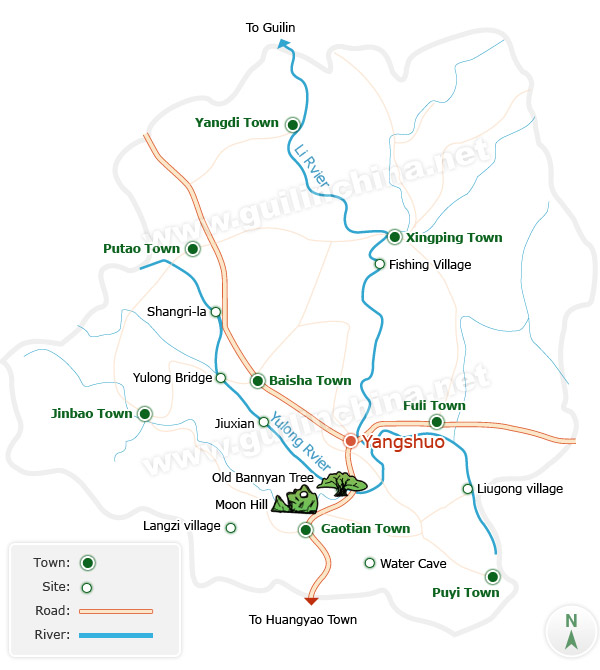 Recommended Tours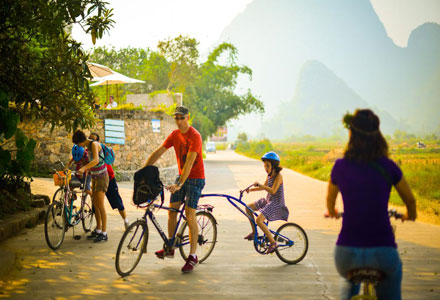 This tour offers not only Guilin city highlights and Li River Cruise, but also includes staying one night in Yangshuo to soak up its beauty in a slower pace. Cycling along the countryside road and a local family visit are also provided, which is a cool way to explore Yangshuo more.
Duration: 4 Days
Operates: Daily
Language: English |Spanish |German |Italian |French |Russian |Janpanese
$489 View details