Guilin Longji Terraced Field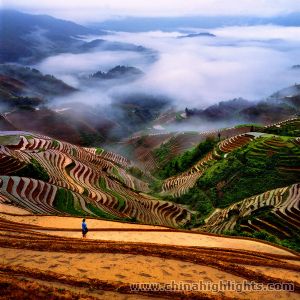 The Longji Terraces are located in Longsheng County about 2 hours from Guilin . The rice terraces are built into the hillsides. The terraces look like great chains or ribbons as they wind from the foot to the top of the hill. This ingenious construction makes best use of the scare arable land and water resources in the mountainous area. There are about 66 square kilometers terraced fields in southeast of Longsheng,
The Terraces were first built in the Yuan dynasty and completed in the Qing dynasty by the Zhuang people
The two ethnic groups live in the trerrace feild erea
Zhuang Minority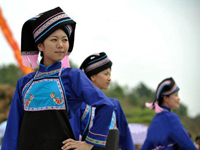 The Zhuang are the most populous among the ethnic minorities in China . Guilin is one of the homes of the Zhuang nationality. Zhuang ethnic nationality is centuries-old and is distributed in Guangxi Zhuang Autonomous Region, Yunnan Province, Guangdong Province and Guizhou Province .Their culture is particularly rich and colorful.
The costume of the Zhuang is a simple design with the favored colors being blue and black. The women like to wear embroidered towels as headwear and an apron covered with exquisite handwork. Zhuang ladies will also wear intricate pieces of handmade silver earrings, bracelets and necklaces.
Yao Minority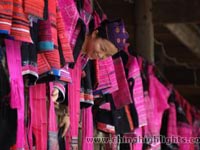 The Yao nationality is distributed in six provinces but the Guangxi Zhuang Autonomous Region contains the largest population of the Yao people. They have their own language but most would also speak mandarin. Their origins date to the Qin Dynasty. There are several sub-groups within the Yao nationality.
Yao people are distinctive by their colorful national dress and often the women will have extremely long hair which is coiled up on top of their head.
Recommended Guilin Tours Including a Visit of Longji Terraced Field