Longsheng Travel
Longsheng County boasts fantastic natural scenery with spiraling rice terraced fields that were built about 700 years ago, and ethnic villages with unique buildings, costumes and customs. It is famous for its beautiful rice terraced fields and ethnic villages in mountainous areas. The well-known Longji (literally meaning "Dragon's Backbone") rice terraced fields were built through many generations¡¯ hard work ever since the Yuan Dynasty (1271-1368). The fields built along the mountains slopes wind from the riverside up to the mountain top, with the highest place of an elevation of 885 meters (968 yards) and the lowest 380 meters (416 yards).
Facts:
Location: Northeast of Guilin, China
Minority Tribes Around Longsheng: Pingan Zhuang Village,Huangluo Yao Village, Ancient Zhuang Village, Zhongliu Village, Dazhai Village, Jingkeng Village.
Best time for visit:From April to October every year, the annual average temperature is F62.78.
Best way for visit: take a day trip to Longji Rice Terraces (Ping'an Village, Dazhai Village or Guzhuangzhai Village) from Guilin; spend 2 days for staying overnight on the mountain, seeing the sunrise and hiking in Dazhai Village.
How to get to Longsheng: take the bus from Guilin Coach Station to Heping Village belonging to Longsheng. It takes about 2 hours at 20 Yuan or so. Heping Village is located on the roadside between Guilin and Longsheng County, from which visitors will go to the ticket office and buy the entrance ticket.
Recommended Tours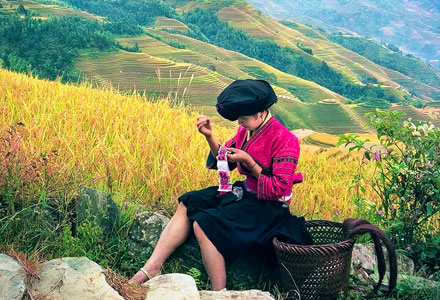 This tour covers all essence of Guilin City, Yangshuo, Li River and Lonsheng for rice terraces and minority culture.
Duration: 4 Days
Operates: Daily
Language: English |Spanish |German |Italian |French |Russian |Janpanese
$529 View details