Guilin Shopping Center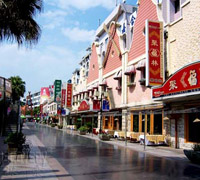 Known internationally for its river and mountain scenery, mysterious caves and grotesque rocks, Guilin has enjoyed the reputation of having the country's most beautiful scenery for hundreds of years. Guilin's local products and handicrafts include China sea pearls, Chinese landscape paintings, fermented bean curd, medicinal materials, paper umbrellas and artistic pottery and porcelain.
Where to Shop in Guilin
Zhengyang Pedestrian Street
Zhengyang Pedestrian Street is at the back side of center square. The total length of the street is 666 meters, which means good fortune in Chinese. The shops along the street decorated with Chinese ancient styles and classic European styles are very pleased to walk around. This popular shopping district consists of many fashion brand shops, night clubs, hair salons and restaurants.
Guilin Niko Niko Do Plaza
Niko Niko Do, the biggest shopping mall in Guilin is located on the zhongshan road, the center of downtown. It has 9 floors include the underground food supermarket. This plaza sells good quality of clothing, bags, shoes, cosmetics and electronics with famous brands.
Add: 37 zhongshan middle road
Business hours: 9:00 am—10:00 pm
Open Hours: 9:00am-9: 30pm
Tips: No bargain
The Little Hong Kong
The Little Hong Kong is an underground shopping center that just under the Guilin center square. The things they offered are not very good qualities compare with them in the department stores. But the price is quite cheap, so it's favored by the young generation especially the students here.
Business hours: 9:30 am—9:30 pm
Tips: the price here can be negotiated
Night Market
The night market which starts every evening from 7:00 pm till midnight is a good place to buy small souvenirs and have a good taste of the local snacks. Be sure to bargain with the shoppers if you decide to buy the souvenirs.
Opening Hours: 7pm till midnight
Tips: the barbecue there is really nice
Nan Cheng Department Store
Beside the zhongshan road in center of Guilin, It also has another commercial center in the east of the downtown. Near to the Guilin exhibition center, Nan Cheng department store is the biggest store along this area.
Open Hours: 9:00am-10: 30pm
Too Shopping Mall
If you are not only go shopping but also want to do some entertainment, then Too shopping mall may your right choice. This commercial center is consists of supermarket, clothing and shoes shops, restaurants and coffee shops, KTV and a big cinema, This area is really favored by the fashion young generation.
Tips: there is a botanical garden behind the shopping mall. It's a good place to relax yourself
Waoyao wholesale market is located in west of Wayao road, in possession of more than 1000 wholesale shops, setting processing, production, sales in one, market parking, hotel, catering, banks, post and telecommunications, passenger and freight transport expanding etc. service facilities are all in readiness. Nowadays it has become a famous wholesale market in southwestern region and even countrywide. In addition, the first tourism crafts trade fairs of Guilin was carried out here. At present, the wholesale market has expanded 4000 square meters.[More]
What to Buy
Chinese landscape painting
Landscape paintings in Guilin are more fantastic than any other cities in china because of the exquisite landscape in Guilin. The splendid nature landscape provides many materials for those artists to make beautiful arts. So the paintings here are famous throughout China.
Minority handcrafts
Except the authentic amazing scenery, Guilin is also famous with its rich minority culture, 36 ethnic groups living together in this area. The ingenious ethnic people can make gorgeous minority handcrafts with different minority styles such as embroidery balls, batik and silver bracelets.
China South Sea Pearl
The China south sea pearl is well known to the world. The pearl produced in Guangxi Zhuang autonomous region has the best quality. Guilin is the ideal place to buy the south sea pearl.
Guilin specialties
Because of the humid and hot weather, the locals here prefer spicy food. So the Guilin chill sauce is very famous. It is so called "Guilin sambo" with the other two specialties, one is Guilin sanhua alcohol, the other one is Guilin fermented bean curd.
Luo Han Guo ( momordica fruit) is also a famous Guilin specialty, it's a kind of herb medicine. The fruit can make sweet tea which is good for healthy and favored by our Chinese.