Chinese Cooking Class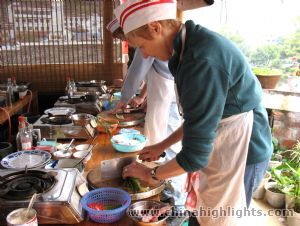 The cooking class begins at the local market where ingredients for the dishes are chosen by students. Back at a covered, rooftop patio-classroom, you have an opportunity to learn three dishes and enjoy the fruits of your labor.
There are three important steps to learn in Chinese Cooking Class:
Step One: First to the local farmers market with your teacher in Yangshuo to buy the ingredient which is uses for cook. The local famer's market is the place that Chinese people go to buy the fresh food and the daily necessities everyday, you will find out what we use to eat, but also can enjoy bargaining experience with the vendors.
Step Two: Come back to classroom after all from the market to prepare the ingredient for the dishes, learning chopping under the teacher's instruction. The skill to use the Chinese heavy chopping knife is key point of a good dish.
Step Three: start cooking, learning how to well controls heat and how to seasoning the food, after all dishes done, the students can taste their labor of fruit.
Note:
1、To open the cooking class at least two students each time, so sometimes you have to learn with other students.
2、Each student can pick three of their favorite Chinese dishes from the menu which is offered by cooking school.
3. All English speaking during the cooking class. Without language barrier.
Recommended Cooking School in Yangshuo:
Jufulou Chinese Cookery Class
Add: Jufulou Reataurant, West Street, Yangshuo
Tel: 0773-8813686
Yangshuo Aiyuan Hotel Cookery Class
Add: Ai Yuan Hotel, West Street, Yangshuo
Tel: 0773-8811882/8811868
Yangshuo Cookery School
Add: near by Yulong River
Tel: 13788437286
Combine this tour to your Guilin tour packages, please click here.
Got questions? Ask us here!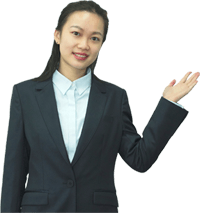 Sally Guo
Travel Advisor