Li River
Brief Introduction
Li River, one of China's most famous scenic areas, was listed as one of the world's top ten watery wonders by America National Geographic Magazine. It was even picked by CNN as one of "World's 15 best rivers for travelers".
Originating in Mao'er Mountain in Xing'an county northeast of Guilin, the Li River winds its way southeast for about 437 km, passing through Guilin, Yangshuo, Pingle, Zhaoping and finally meets Xi River in Wulin. It boasts the largest and most beautiful scenic area in China and attracts thousands of visitors each year.
The 83-km-long waterway from Guilin to Yangshuo is like a masterpiece. The landscape is decorated with rolling hills, steep cliffs, fantastic caves, leisurely boats and is lined with bamboo. A poem says: "The river is a green silk ribbon, and the hills are jade hair-pins".
Li River Cruise - The Best of Guilin and Yangshuo Highlights
Cruising on Li River is always a pleased thing. You can breathe the fresh air, feel gentle breeze and appreciate the fabulous landscape on both sides of Li River. In spring, tourists may stand on the front of a boat and let the mizzle falls onto their faces. It is really a wonderful experience.
"I have visited more than 80 countries and over a hundred cities. I have found that no city can surpass the beauty of Guilin. Guilin is really a bright pearl in China." said the former US president Richard Nixon. Besides, former US president Bill Clinton and George Bush, Comrade Deng Xiaoping and former Chinese president Jiang Zemin ever cruised on Li River.
Mostly the cruise starts from Zhujiang Wharf. It is about 40 minutes drive from Guilin city. And then 4 to 5 hours cruise will take you to a beautiful and sedate ancient city - Yangshuo.
Read More Information About Li River Cruise>>
Quick Facts
Chinese Pinyin: Lijiang
Location: South China
Length:437 KM from Mao'er Mountain to Pingle County
The Length of the Essence: 83 KM from Guilin City to Yangshuo County
Best Time to Visit: April, May, September, October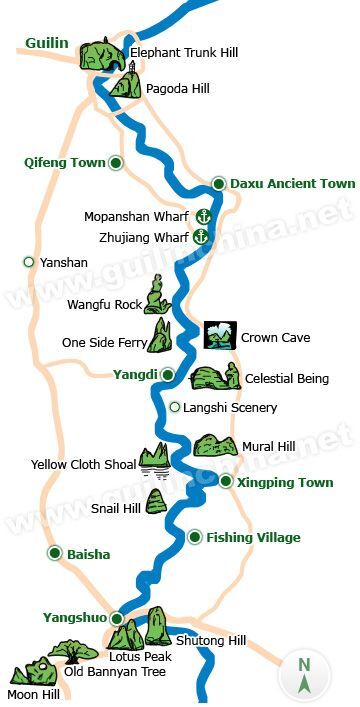 All Attractions along Li River
Explore Li River with Fun
Recommended Tours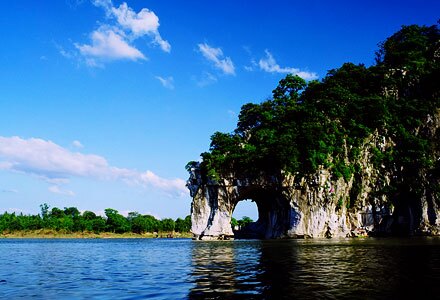 This tour is highly recommended to first-timers to Guilin. It covers all must-do in Guilin and Yangshuo, including Li River Cruise, Elephant Trunk Hill, Reed Flute Cave and Fubo Hill.
Duration: 3 Days
Operates: Daily
Language: English |Spanish |German |Italian |French |Russian |Janpanese
$349 View details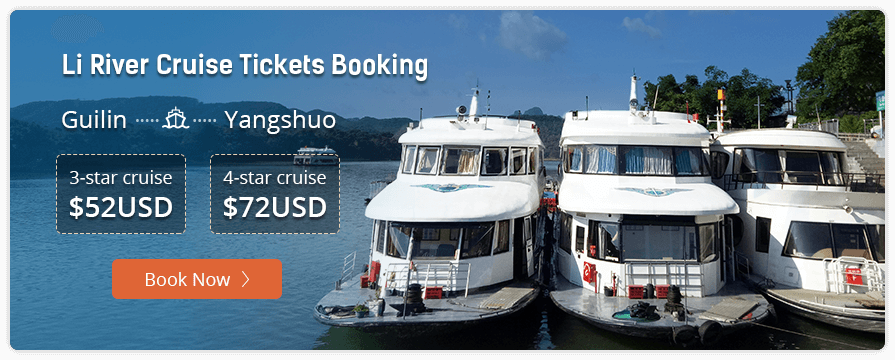 Common Questions Travelers Asked Us
When is the best time to travel to the Li River?
The best time to travel to the Li River is between the end of April and the end of October. During this period, water capacity is good and temperatures are warmer, after the rainy season.
What is the best way to see the Li River?
Taking a Li River Cruise is the most popular way of seeing a spectacular stretch of the river. Boats operate all year round, leaving between 9:00 and 9:30am every day from Zhujiang/Mopanshan Wharfs in Guilin. The 69km cruise from Guilin to Yangshuo highlights the unique world famous karst landscape on both sides of the river. You just relax onboard and enjoy this experience of a lifetime.
Bamboo rafting is not recommended, because the service standards of the raftsmen can't be guaranteed.
For now, hiking along the Li River is not an option, for reasons of government control and lack of availability of ferries crossing the river.
What is there to see on the Li River?
The Li River is famed as one of the world's great natural wonders. Every day people from all around the world vie to view its unique beauty. You can expect to see karstic mountains, crystal-clear water, idyllic scenery, cormorants and fishermen, the unadulterated beauty of nature and the wild.
Li River cruise vs Yulong bamboo rafting, which one is better?
The Li river cruise takes 4 hours on tourist boat which provides open air deck for sightseeing, indoor seats and buffet lunch, this will be strong recommended for first time visitors, if you want to extend your trip in Yangshuo, the Yulong Bamboo Raft consider as the best choice, it is the tributary of Li River, visitors may expected to see great combination of the karsts mountains, and peaceful idyllic scenery by punting trip, there are different starting pier alongside Yulong River, price and time depend on the starting and ending point.