PRIVACY POLICY
At Guilinchina.net Travel, our mission is to provide you with a worry free trip in China. Personal information submitted to us via a web-form, mail, telephone, fax, e-mail or any other means, is only used to arrange your trip in China, and will never be sold, rented, shared or passed on to any unauthorized third-party.
We takesour responsibility to protect your security and confidentiality very seriously. We want your trust and respect!
What data do we collect? What do we do with it?
Name and address
- To correspond with you by mail
- To purchase tickets for airlines, trains, bus service, boat tickets or entrance fees for attractions
Telephone- and Fax numbers
- To transmit forms or tickets or to contact you in an emergency
Passport and Visa data
- To obtain airline tickets and hotel bookings
- To apply for travel permits in certain regions in China (Tibet)
E-mail address
- To correspond with you (Send proposals, itineraries, etc)
- To inform you about new services/tours from China Highlights Travel
All other personal information
- To design a fabulous trip to your best interests
Credit card information
- To pay for your travel services
Got questions? Ask us here!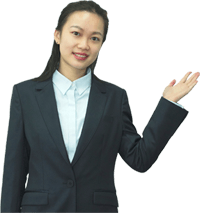 Sally Guo
Travel Advisor