Four Lake Cruise in Guilin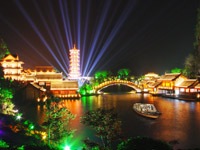 The night four lake cruise is one of the must-do activities during your Guilin tour, the construction of two rivers and four lakes reconstruction project was complete in 2000, composed of Fir Lakes, Banyan Lakes, Guilin Lakes and Wood Jorgen Lakes. Trace back to hundreds years ago, the ancient waterway systems was so prosperity and its flourish by floating markets and the visiting of tourist. In order to reproduce the former Guilin's prosperity of "water city", this great concept was meeti an agreement and put in to city development schedule.
Except for tourism, this water system plays an important role of clear up mud more than 600,000 square meters under the lake, cause the lakes now has been a constant flow waterway connected through Li River and Peach Bloom River. 19 new built bridges modeled on the world's famous bridges were come cross over the lakes in the main section of the city; the most famous one is locally called Lize Bridge which is the Miniature site of Golden Bridge in Sam Francesco.
Fir Lake and Banyan Lake
Located in Central Guilin City, it is bounded by Yang Bridge, East to Fir Lake, and West to Banyan Lake, Lake name after the lush Fir trees and banyan tree growing along the river bank, Known as Nanyang Rive in the past time, the most scenic area is around Sun and Moon twin Towers, the Sun Tower Towering by the cooper body range from Watts surface, and Alice angle, and door arch, and bird for the, and doors to Windows. Counted as the world highest cooper tower. Moon tower located beside the Sun Tower decorate by glaze tiles. An underwater tunnel connected the either side of these tow towers.
Gui Lake
Gui Lake is originally built as the west city moat, with the total length of 1700 meters, historically as the important part of city moat. Tourist will encounter a live cormorant fishing on Guilin Lake preformed by the local fishermen.
Wood Jorgen Lake
Mulong Lake Scenic Area focus on the great immerse of natural landscape and authentic culture, it name after the Wood Jorgen Pagoda stand by the middle lake, when the boat sails into the lake, it feels like stay back in the old city with traditional style architecture and the live folk performance. The end of the lake is the torrent high ancient city wall remnant of the Song Dynasty.
Got questions? Ask us here!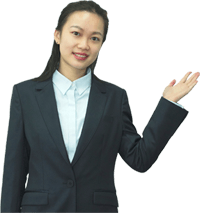 Sally Guo
Travel Advisor