Top Free Attractions in Guilin
Many of the cultural and historical icons in Guilin are tourist sites and therefore attract an admission for all people other than Guilin residents who pay a nominal fee.
Guilin does have several places of interest which are free to visit.
Guilin Sightseeing Spots
Rong Lake and Shan Lake Scenic Area, Guilin 榕杉湖景区 ★★★★★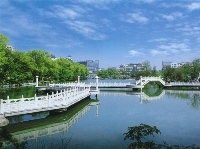 Rong and Shan Lakes are located in the heart of the city center and joined by the Yang Bridge. On the eastern side Yang Bridge is Rong Lake and Shan Lake is located on the western side. They connect the Li River with the Peach Blossom River. Once the cultural center of Guilin during the Qing Dynasty, the scenic area now is the most beautiful and famous attraction in Guilin City.
The lakes are circled by walking paths and strolling through the gardens is great way to appreciate the scenery. There are several spots should not be missed. They include - the Twin Towers, the Ancient South Gate, the Glass Bridge, Welcoming Guest Bridge, Long Corridor Bridge and the Sun and Moon Bridge. Night-time provides a totally different view and sightseeing experience from daytime as the colorful lights provide a fairy land atmosphere to the area. The whole area is alive with acticity.
Add: Both sides of Yang Bridge, City Center in Guilin
地址:桂林市中心阳桥两侧
Getting there: Take Bus NOs 10、3、11、99、51、100 and gets off at Yang Bridge Station.(阳桥站)
Jiu Tian Yinhe Man-made Waterfall, Guilin 九天银河 ★★★★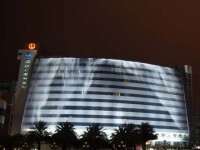 Jiu Tian Yihe, the man-made waterfall at the Lijiang Waterfall Hotel, is the biggest man-made waterfall in the world and was listed in The Guinness book of World Records in 2002. At more than 45 meters high and with a width exceeding 72 meters, the waterfall is spectacular when in operation. The waterfall usually operates at about 8:30 each evening in the peak season.
Add: No. 1 North Shanhu Road, Guilin
地址: 桂林市杉湖北路1号
Tel: 0773-2822881
Getting there:Take Bus NOs 10、3、11、99、51、100 and gets off at Yang Bridge Station.(阳桥站)
Ten-mile Gallery, Yangshuo 十里画廊 ★★★★★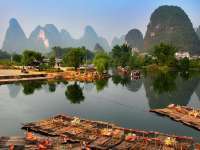 The Ten-mile Gallery is located around the Moon Hill near Yangshuo along Gui li Rd. The classic scenery from the area is featured in one area for the enjoyment of all those who take the time to stop and enjoy it. Through the ages the mountains have been named for the by imaginative people for the scenes they see.
The highlights are Qing'e Scenery, Dolphins Expelling Water, Nuns Going Down Hill, Camel Crossing the River, Moon Hill and Flaming Mountains.
Moon Hill Scenic area offers good places for rock-climbing. The best are the most famous are Moon Hill and Ram's Horn Mountain. The most popular way to get there is by bike.
Add: Guili Road, Yangshuo County,Guilin City (Near the Moon Hill)
地址:桂林市阳朔县桂荔路(月亮山附近)
Admission: Free, but attractions along the road have entrance fees.
Getting there: Take bicycle from Yangshuo along Gui Li Road, it takes less than 1 hour.
Yulong River, Yangshuo 遇龙河 ★★★★★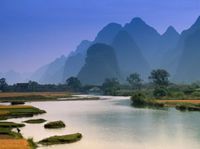 Yulong River is ranked just behind the Li River for its scenery. It is sometimes called the Little Li River. The secton from Shangri-La Theme Park to Gong Nong Bridge is the most popular. The river water is crystal clear and the landscape beautiful and perfect for cycling to enjoy the view. 1 hour would make a comfortable bicycle ride.
Main attractions along the river are Yulong Bridge, Rhinoceros Watching Hill, Five Fingers Mountain, Chuanshan Ancient Village, and Guiyi City Ruins.
Add: Baisha Town, Yangshuo County, Guilin
地址:桂林市阳朔县白沙镇
Getting there: Take bus at Yangshuo Bus Station from Yangshuo to Guilin and get off at Baisha Town at 2 Yuan/person, and then transfer to Yulong Bridge by tricycle at a fare of 2 Yuan/person. Take bus from Yangshuo to Jinbao and gets off at Jinlong Bridge, from where raft rides are available. Ride a bicycle from Yangshuo to Yulong Bridge along Yulong River banks and it takes about 1 hour.
Nightlife
Zhengyang Pedestrian Street, Guilin ★★★★正阳步行街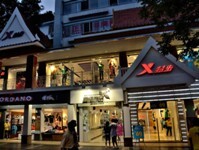 Guilin Pedestrian Street is located in the center of the city and has lots of shopping, restaurants, street food, and also pubs! After dark, it comes to life.
This is an excellent place to find local souvenirs. Looking for a drink or a place to eat? There are many pub and restaurants and Shangshui Food Street has lots of great small places to eat. The Top 5 Guilin restaurants as recommended on TripAdvisor are all situated in or near Zhengyang Pedestrian Street.
Add: Zhengyang Pedestrian Street, Xiufeng District, Guilinl
地址:桂林市秀峰区正阳步行街
Getting there: Getting there: Take Bus NOs 10、30、11、99、100 and gets off at Shi Zi Jie Station.(十字街站)
Xicheng Night Market, Guilin 西城夜市 ★★★★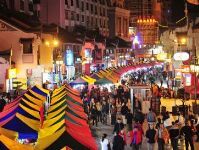 Every Chinese city has a night market which sells the local specialties and Guilin is no exception. Xicheng Night Market is located in Xicheng Pedestrian Street.
It offers a wide range of local snacks not available elsewhere and many handicrafts. These include folk painters, painted fans, shoes, T-shirts. Why not have your name written in Chinese calligraphy.
Add: Xicheng Road, Xiangshan District, Guilin
地址:桂林市象山区西城路
Getting there: Take Bus NOs 10、16、11、99、100 and gets off at Xicheng Road Station.西城路口站)
West Street in Yangshuo 阳朔西街 ★★★★★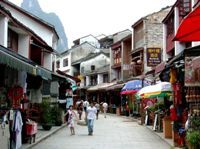 Do you like shopping? West Street in Yangshou has almost anything that you could wish for. Have a cup coffee along the street bar in a break from bargaining with vendors for what your heart desire. There ate also many restaurants serving western or Chinese food.
Add: West Street, Yangshuo County, Guilin City
地址: 桂林市阳朔县西街
Getting there: Take Bus at Guilin Bus Station from Guilin to Yangshuo at 18 Yuan/person
Ancient Towns
Daxu Ancient Town,Guilin 大圩古镇 ★★★★☆
Daxu Ancient Town is situated 18 km southeast of Guilin. This ancient town was built 200 years ago and was once one of Four Main Towns in Guangxi. Points of interest around the town are She Gong Mountain, Jing Hill, Mo Pan Hill and Mao Zhou Island.
As well as old buildings the town features local bamboo weaving workshops and straw sandals workshops, traditional funeral supplies stores, old barber shops and herbalists 'clinics. Many old people spend time playing cards or drinking tea together along the streets. During dragon boat festival, the old town holds a variety of activities to celebrate the festival.
Add: Daxu Town, Ling Chuan County, Guilin City
地址: 桂林市灵川县大圩镇
Getting there: Take bus at Guilin Bus Station from Guilin to Guan Cave and gets off at Daxu Ancient Town. The fare is 5 Yuan/person.
Jiang Tou Ancient Village of Jiu Wu, Lingchuan Town, Guilin 九屋江头村 ★★★☆☆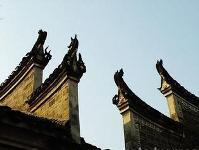 Having a history of over 800 years, Jiangtou Village is famous for its architecture of Ming and Qing Dynasties style. About 180 residence brick houses remain with 60% of them built during the Ming and Qing Dynasties.
Add: Jiang Tou Village, Jiu Wu Town,Qing Shi Tan Town, Ling Chuan County, Guilin City
地址:桂林市灵川县青狮潭镇九屋江头村
Getting there: First take Bus NOs 99 or 100 and get off at Qun Zhong Road Station(群众路口站), and then transfer from to Jiu Wu by taking bus from Guilin to Jiu Wu which costs about 8 Yuan/person.
Cultural Spots
Guilin Museum 桂林博物馆 ★★★★
Guilin Museum is museum that displays art and history, located beside Xi Shan Park. It has display and information about Guilin history and relics including relics from Guangxi's ethnic minorities. Valuable funeral objects from the tombs of emperors of the Ming Dynasty are also on display. The museum often holds exhibitions in the temporary Exhibition Hall. Admission is free needed, but some exhibition halls have an entrance fee.
Add: NO 4, Xishan Road, Guilin
地址: 桂林市西山路4号
Tel: 0773-2897308
Getting there: Take Bus NOs 14,3 and 29 and gets off at Xishan Park Station.
Former Residence of Xu Bei Hong, Yangshuo 徐悲鸿故居 ★★★☆
Former Residence of Xu Bei Hong is a small cottage with brick structure, located in Qian Road in Yangshuo. It was the home of the Chinese famous painter Xu Bei Hong. He traveled to Yangshuo in 1936 and was provided with a home by a famous commander, Li Zong Ren.
The residence shows Mr. Xu's daily life including some of his works. The notable paintings like Lijiang Chun Yu, Zou Qi Du and Ji Ming Bu Yi were created there. In the yard is a white Magnolia tree planted by Liao Jingqiu, Mr.Xu's wife. It is the tallest white Magnolia tree in Yangshuo.
Add: NO 17, Qian Street, Yangshuo County, Guilin City (near Yangshuo Government)
地址:阳朔县县前街17号(近县政府)
Got questions? Ask us here!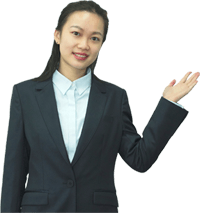 Sally Guo
Travel Advisor