Liusanjie Landscape Garden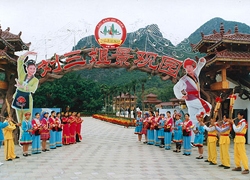 Visit the Liusanjie landscape garden to immerse yourself in a world inspired by the film Luisanjie. This carefully landscaped garden allows visitors the opportunity to experience a combination of cultures, including the Zhuang, Miao, Tong, and Yao nations; all of which mesh together to provide very unique entertainment for guests.
The story of Lui Sanjie is a legend that finds its origins in tales told by the Zhuang people. Their stories about a woman who was named Liu Sanjie, which translates to mean Third Sister, tell of a young girl who was gifted with a beautiful voice. Her voice is said to have been so transcendently beautiful that it could raise the dead. The story of Liu Sanjie was so popular amongst the Zhuang people that a movie was written about her, and it was released in 1960.
The stunning landscaped park is located alongside the serene Taohuajiang River, and spans several lush acres. Visitors to the park can view live action scenes from the film that inspired the design of the park, and can become wholly immersed in an experience unlike any other. The lightshow is incredibly popular and guests to the city say that the light show stands out as one of their most memorable experiences.
With a stunning water screen and vibrantly colored fountains working as a visually inspired backdrop to the theatrical performances, the gorgeous blue crescent moon also helps to tell a tale steeped in legend. The peaceful path leads guests to the Caiyue Cave where the laser-lit statue of Sanjie Lui is brilliantly illuminated to further tell the tale of this folk song hero.
Don't forget to take in the sights at the Speculate Garden. With its numerous scenic attractions, you'll find your time spent here is well worth the effort. The Speculate Garden is home to the Third Sister Liu, a stunning collection of ancient stone tablets that offer a great insight into the past, along with the folk song hall, painted corridor, information hall, and several stages where guests can take in wonderfully choreographed performances.
Got questions? Ask us here!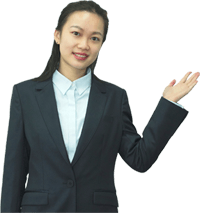 Sally Guo
Travel Advisor