Guilin South Creek Park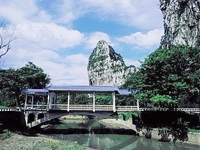 South Creek Peak (Nanxishan) is located in southern part of Guilin city. The east and west peaks of the Hill tower high above the surrounding landscape. The rosy clouds and purple mists that float above the valley after a morning rain are an unforgettable sight.
Dragon Spine Pavilion between the two peaks is the best place to view the City of Guilin . It features rocks of fantastic colors and caves filled with stalactites. There are many peculiar caves including White Dragon Cave and Liu Xian Cave .

Legend says that more than a thousand years ago a Taoist named Liu Jing concocted pills of immortality in a hillside cavern on the hill. The stories tell about the many caves in the hill related mostly to Liu the Immortal. Liu Xian Cave is where the Immortal Liu used to concoct his pills of immortality. The walls in the cave are decorated with carved paintings. One of the paintings pictures Liu before he reached immortality. He is depicted as a godly figure in another with his gown blowing and a serene expression on the face.
There is a park at the northern foot of the hill with groves of bamboo, pine, and cypress. "Dragon Spring" is found here. In ancient times its fine spring-water was sent as a tribute to the Imperial Court .
Recommended Guilin Tours Including a Visit of South Creek Park
4-Day Guilin Park Spring Tour
: Visit to Seven Star Park (including the panda house), Yao Mountain with roundway chair lift service, Nanxishan Park, Li River Cruise, Shangri-La Theme Park
Got questions? Ask us here!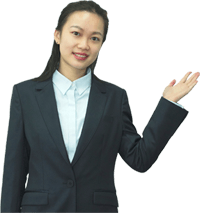 Sally Guo
Travel Advisor