Li River Tour Route No.1
Drive to Caoping Village and Hiking to Xingping, end up in Xingping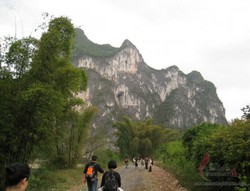 This is kinds of adventuresome tour need to have enough energy; the one way trip will takes 7 hours totally, tourist can rent a car or taking the shuttle bus from Guilin Bus Station to Caoping Village, then follow the countryside path start your hiking trips. One the way to Yangdi, you will surrounding by Green Krast Mountains, and pass through a small village at the road side it is a good opportunity to get up close to the locals, and acknowledge about their life, if come here in the harvest season, you will see a picture of the whole family busy farming, some of them is cutting rice, and the other is working on threshing machine or take care of the rice stock which they will use as fertilizer in the coming season. Two hours later, your will get to Yangdi, a hill shapes like the horn of goat that present in the other side of Li River, than continue your trip, it will takes 5 hours from Yangdi to Xingping Village, more beautiful scenery is constantly present will feast your eyes and totally exceed expect. The terminals is Xingping Town, which is well-known for the Fishing village, walking around the town or refreshes yourself in the local restaurant with a cup of coffee or cold drink, than take a bus to Yangshuo or back to Guilin, enjoy your time there.
The 83-km-long waterway from Guilin to Yangshuo is like a masterpiece. The landscape is decorated with rolling hills, steep cliffs, fantastic caves, leisurely boats and is lined with bamboo. A poem says: "The river is a green silk ribbon, and the hills are jade hair-pins".
Notes:
Prepare enough water and food can be Supplementary manual.

There are three points of crossing during the way, cross river to the anther side by ferry boat.
Got questions? Ask us here!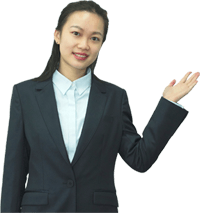 Sally Guo
Travel Advisor