Yangshuo Nightlife
Besides going sightseeing, West Street is the place to be for enjoying the best and liveliest times in Yangshuo. Subdued and traditional during daylight hours, colorful neon signs, stylish restaurants and spirited bars perk up West Street as soon as the sun sets and the party gets underway. Whether you are looking for a relaxing, chill scene, a quick bite to eat, live music or just searching for the hottest new bar, West Street will have more hot spots than you could tackle in a month.
Bars and Clubs
Buffalo Bar and Café
Opening Hours: 7PM-1AM
Address: No 38 Qianjie,West Street
Alf's Place is located in the West Street, the boss is Australian, The decoration pattern is the same as British Style. Many things in the bar are related to United Kingdom, such as football, Mediterranean cuisine and the British leisure atmosphere, especially for the live concert.
Bar 98
Address: 42 Guihua Road, near Bamboo Inn
Phone: 0773-8814605
One of the best things to do when in Yangshuo is enjoy the spectacular scenery while rock climbing up some of the most thrilling cliffs around. If you are looking for the 'climber' scene, then head to Bar 98. This hot spot is located right in the middle of town and offers pool, free wireless internet, a cool outdoor patio and Trivial Nights every Tuesday. Try the mixed drinks here, which patrons claim to be some of the best in Yangshuo.
Cafe le Votre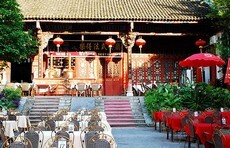 Address: 79 Xi Jie (West Street), dab smack center
Phone: 0773-8828040
With a name like Café le Votre, you'd be best to expect fine French cuisine in a fun and laid-back environment. This wonderful little venue specializes in finely crafted beers produced right in the bar's own microbrewery. A large area reserved for outdoor seating makes this a perfect place for a warm, breezy evening. People-watching is a favorite pastime for patrons of Café le Votre. If you don't mind the occasional local trying to hawk you a souvenir from time to time, enjoy your French food and fresh brewed beer out on the patio.
Mono Rooftop Bar
Address: Lianfeng Lane 44, just off West Street
Phone: 0773-8821717
Hours: 8:00pm – late, daily
Overlooking the bustling night crowd below, Mono Rooftop Bar is perched on the fourth floor of a local building and is a refreshing respite during those extra hot, sizzling evenings. Feel the cool breeze up on the rooftop drinking area and escape from the crowded, street level scene. And, really, nothing goes better with a cold drink than the beautiful scenery of the surrounding karsts. Enjoy the nightly twinkle and shadows as the mountains serve as your evening's backdrop. The Mono Rooftop Bar was recently opened and has already become one of the favorites on West Street.
Kaya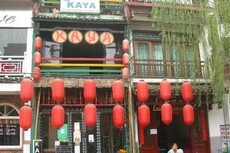 Address: Guihua Road 47, rightacross the street from The Alley
Phone: 0773-8896610
A quiet and funky café by day turned hoping jazz and reggae bar by night. Kaya is the perfect blend of island grooves, great drinks and fun music. Named after a Bob Marley album, the bar definitely has a Reggae vibe to it, and often features Reggae acts from around the world. A late night crowd mills here and the party is often is still going strong when other bars have already packed up shop for the nigh. If you are into live Indie music, maybe want to showcase your own talents (always an open mic) and love a cool, fashionable crowd, then head to Kaya on the West Street.
The Alley - Yangshuo Beer Bar & Restaurant
Address: Guilin Yangshuo, Guihua Rd, sunshine 100 C 102/103
Hours: Open from 5:00pm – late, daily
For a great spot to enjoy both food and drink, be sure to check out The Alley. This laid back joint has beers on tap from all over the world. The westernized menu features authentic Italian pizzas and delicious burgers, with a few Chinese dishes. The big burger and fry combo even comes complete with a complimentary Liquan beer. Sports from around the world are showcased on the big flat-screen TV and every Wednesday features fun and fierce foosball competitions for anyone to join.
Yangshuo M.C Club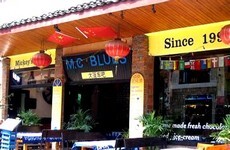 Opening Hours: 8PM-1AM
Address:West Street, right in the corner
Yangshuo M. C Club located in the middle of the West Street; the bar is running by the locals, the boss speaks with Fluent English and very friendly, it provided variety of alcohol and snakes, and customers can enjoy a live concert every night.
Live Show
Show of Impression Liusanjie
A spectacular show based on the life of the famous folk heroine Liu Sanjie. The creation of renowned Chinese director Zhang Yimou, it is set on a 2km stretch of the Li River and uses the incredible natural scenery along with a cast of hundreds to tell a classic tale of love, intrigue and tragedy. The music, lights, dancing and natural beauty of the backdrop ensure you will not be disappointed.
Price: Ordinary Seats (RMB 228), VIP2 (RMB 268), VIP1(RMB 358), President Seats (RMB 680).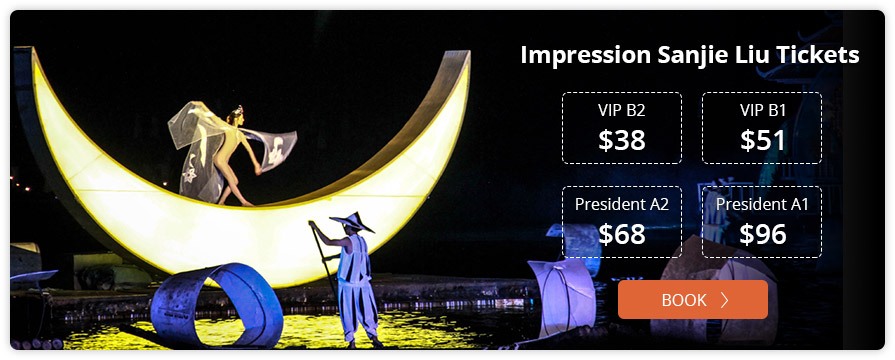 Got questions? Ask us here!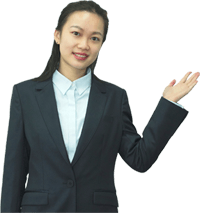 Sally Guo
Travel Advisor