Guilin Liangjiang International Airport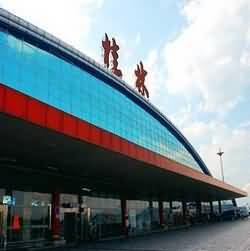 There are several different ways to arrive into Guilin. Flying by plane is the quickest and easiest method of arriving in the city. And by doing so, you start your Guilin adventure by seeing the vast, beautiful landscape from above. Guilin Liangjiang International Airport is small with one terminal, but receives flights from many larger Asian cities. The airport services over 4 million travelers a year and is equipped with a business center, a small branch of the Bank of China, many restaurants operating during flight times and multiple one-stop travel shops for all your flying needs. Carriers such as Air China, China Eastern and China Southern Airlines service Guilin from Beijing, Shanghai, Guangzhou, Hangzhou, Chongqing and other larger Chinese cities. International flights from countries such as Hong Kong, Japan, Korea, Macau and Thailand also have airlines that run non-stop service to Guilin. Air Asia runs flights from Kuala Lumpur three times a week and Jetstar flies twice weekly into Guilin from Singapore.
The airport is situated 30 kilometers (less than 20 miles) outside the city. From the airport, there are several ways to get into town and start seeing the sights. Taxis from the airport are available at the taxi stand and will cost anywhere from 50 to 100 Yuan, depending on where you are headed. There is no guaranteed that all taxi drivers speak English. So if you do not speak Chinese, make sure to have your hotel or residence's address written down for the driver. Taxis are regulated and have flat rate fees, varying on the time of day a fare is taken.
Airport Bus to Guilin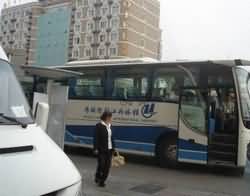 If you have already arranged accommodations at a larger hotel chain, check to see if they offer complimentary airport-to-hotel shuttle service. This is the easiest way to make sure you will arrive exactly where you want to in Guilin. In addition to the hotel shuttles, there are shuttle services that run from the airport into town, but are usually done so without a schedule and although cheaper than a taxi (usually around 20 Yuan) can be unreliable. These shuttles are supposed to available after every arriving flight and can be found at the main exit of the arrivals area. The bus often waits until it is at capacity before departing, so these shuttles may not be your best choice if you find yourself in a hurry. Between 6:30am and 8:00pm a city bus runs from the Civil Aviation Mansion (located close to the airport) into town every 30 minutes. These buses cost around 20 Yuan and will take you right into downtown Guilin.
Note that the buses usually make a few stops when driving into the city. If you are looking for the downtown area, make sure to wait until the last stop before departing. Perhaps you would like to get off at the train station. Usually, the second stop from the airport is done at the Guilin Station (look for Guilin Zhan). From the downtown drop off point of the buses, it should only cost another 10 Yuan by taxi to most hotels in the area. If you are flying into the Guilin airport and are staying at a surrounding town such as Yangshuo to the south or Longsheng to the north, transportation options are available for you as well. While both are accessible from Guilin by boat and taxi, buses available from downtown Guilin are more convenient and quite a bit cheaper.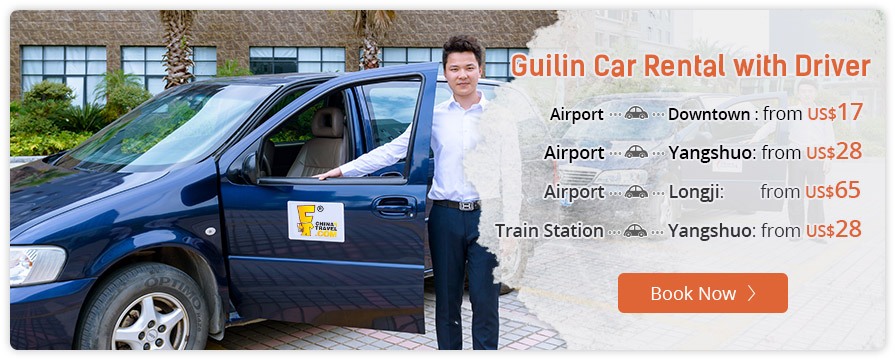 How to Get to Yangshuo from Guilin Airport and Vice Versa
A shuttle bus service between Guilin airport and downtown Yangshuo has been available since November 7, 2013. The bus stop in Yangshuo is in Yangshuo Bus North Station, which is near West Street. Note that travelers taking this bus from Yangshuo to Guilin airport should ensure that the bus departs at least three hours ahead of their flight departure time.
Bus Service for Guilin Liangjiang Airport - Yangshuo Bus North Station
Service

Departures

Tickets

Duration

Liangjiang Airport - Yangshuo Bus North Station

09:30; 11:00; 12:30; 14:00; 15:30; 16:30; 18:00; 20:00;

50 Yuan

1 1/2 hours
(87 km)

Yangshuo Bus North Station - Liangjiang Airport

07:00; 09:00; 11:30; 13:00; 14:30; 16:00; 17:30; 19:00;
Another easy and direct way is to take a cab from Guilin Airport to Yangshuo. There are cabs lined up outside the arrivals hall, and you will need to bargain with them. Usually, the rate is between 250 yuan and 300 yuan. Most hotels in Yangshuo can help customers arrange a cab from Guilin Airport to Yangshuo, and vice versa. Check with your hotel and make reservations in advance. The rate is fixed at 300 yuan for a cab. Often, the trip takes about an hour.
If you miss the bus departing for Yangshuo , you can take the shuttle bus from Guilin airport and get off at the second stop near Guilin Railroad Station and Guilin Bus Station, from where frequent buses for Yangshuo depart. Additionally, you could take the bus all the way into Guilin and then take a bus from downtown to the surrounding areas. If you are traveling to Longsheng, take the airport bus to the second stop as well.
Reasonably priced buses from the Guilin main bus terminal run between 8 a.m. and 5 p.m. most days, departing about every 30 minutes. Expect the trip to either location to take about 2 hours. Many youth hostels in the area arrange day trips to these two counties, as well as additional surrounding sites, so check to see if your hotel or hostel is able to make secure arrangements for your trip outside of Guilin.
How to Get to Daxu Ancient Town from Airport
Daxu Town is another popular tourist attraction in the Guilin area. It is a beautiful ancient town that lies on the east bank of the Li River. The town is close to Crown Cave and is known for it's well preserved, 100s of year old buildings. After arriving in Guilin, take the airport bus to the second stop at the main train station. From there, the main bus terminal is only several 100 meters away. The bus station offers various buses to Daxu, which is about 1.5 hours away.
Airport Pick Up and Transfer Service
Got questions? Ask us here!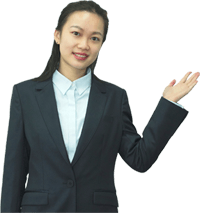 Sally Guo
Travel Advisor