Li River Weather
Since there is less rain during winter months, Li River cruises tend to take a bit longer, with the subsided water levels. This takes nothing away from the experience though as the colder months offer a different view of all the attractions along the Li River, adding interesting dimensions like foggy and shadowy Karst which are mirrored by the calm water.
Monsoon Months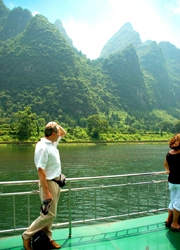 The monsoon period of Guilin, which affects the Li River in a rather obvious manner, runs from March to August, with a gradual build-up starting early in February.
It is very possible to take the Li River cruise during peak monsoon times, which are at their apex during the months of May and June, but the challenges of the continuous downfall and higher cruising speed are alleviated by the unique sights available only during this period of heavy rainfall.
The monsoon months generally make up for the least popular period for the Li River cruise but, they are largely responsible for the extreme prevalence of greenery experienced during the succeeding seasons.
January
Average High (Degrees Celsius): 11.5
Average Low (Degrees Celsius): 5.4
Precipitation (mm): 63.4
Humidity (%): 74
Mean Sunshine Hours: 66.9
Average Precipitation (Days): 15.1

 
February
Average High: 12.7
Average Low: 7
Precipitation: 96.7
Humidity: 76
Mean Sunshine Hours: 50
Average Precipitation: 18.6
March
Average High: 16.5
Average Low: 10.4
Precipitation: 136.7
Humidity: 80
Mean Sunshine Hours: 51.6
Average Precipitation: 18.6
Peak Tourist Season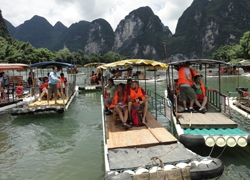 September to early November is the preferred time period for tourists, who are particularly interested in the Li River cruise, as this is that time when the monsoon season has just passed, the summer temperatures get a bit milder and the amount of rainfall generally subsides.
What is most impressive about this time period though is the fact that the Li River-lining plant life is at its greenest, including the Sweet Osmanthus trees, bamboos and rice paddies, amongst others.
This is the time during which everything is at its freshest and the river cruise speeds offer an air of unpredictability, determined by the varied amounts of rainfall which translate into the river swell and flow of the stream.
Based on the various seasons and their attributes, it pretty much comes down to personal preference as to when the best time to visit Guilin is, particularly with regards to the Li River cruise.
Got questions? Ask us here!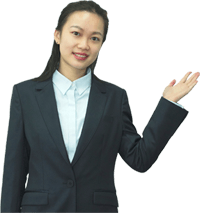 Sally Guo
Travel Advisor