Dining at Yangshou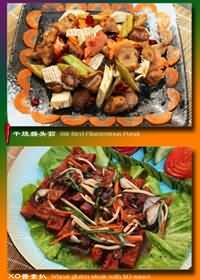 Yangshou County is a popular tourist destination in China about 20 kilometers southwest of Guilin city. Among its six towns and three townships, the most visited by far is Yangshou Town. The peak tourist season is between the months of March and April, after the winter rains have passed.
To reach the town of Yangshou from Guilin, take a bus or hire a taxi. Both of these trips will take less than an hour. Or, take the scenic route via a cruise on Li River. Although it will take about four hours to travel this way, the trip lets you enjoy the magnificent scenery and fresh air from the surrounding limestone peaks called karsts.
Much more laid back than nearby Guilin, Yangshou is a backpacker's paradise. Cheap accommodation is easy to find and bikes and scooter can be rented. Walking and hiking are encouraged. The local government has also taken steps to make sure that their town retains its appeal to its many tourists. Building codes restrict building heights to six storeys to ensure an unobstructed view of the karsts.
Despite being a small county, Yangshou is fittingly proud of its unique cuisine. Widely available in its many restaurants and hawker stalls, Yangshou food makes use of fresh ingredients which abound in the Li River and surrounding farms. It is said that not only are the Yangshou dishes delicious, but they also have many health benefits. Among the more famous dishes are: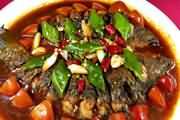 Beer Fish-The most famous of Yangshou's local dishes, it's made with fresh carp, catfish or mandarin fish from the Li River. The whole fish is first fried then braised in the local LiQ beer with chili and tomatoes. It has a sweet and sour flavor which even tourists have grown to love.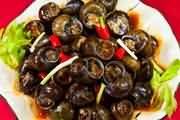 Field Snails-Yangshou is known for their fat, juicy snails which grow to about the size of a ping-pong ball. These snails are served fried with chillies, added to stir-fried vegetables or stuffed. The stuffed snails are a particular specialty of the region. Their conch meat is chopped and combined with ground pork and other seasonings such as ginger and mint. All of this is then stuffed back into the shell and cooked with a mild sauce.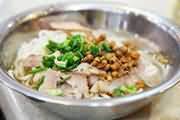 Guilin Rice Noodles-A breakfast staple, Guilin noodles are famous in China for its distinct taste and smooth, pliant noodles. Locally-grown rice is formed into the pure white and tender noodles used in this dish. Usually served in a sour and spicy broth, ingredients can vary according to taste. Guilin Rice Noodles mostly contain pickled vegetables, ground pork and peanuts. Many hawker stalls sell their version of this dish along the streets and allow you to mix in your own condiments.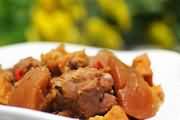 Chinese Grapefruit-Yangshou is well-known for its many grapefruit (or pomelo) orchards. It is widely available anywhere. Buy it in the market and have the vendor peel it for your convenience. Try it fresh and savor its natural sweetness or have it cooked with stuffing and in soup.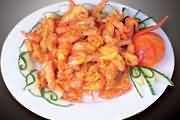 Crispy River Shrimp-Caught fresh from the Li River, these tiny shrimps are freshly sweet. They are dipped into a light batter and perfectly fried. The shrimp are so crunchy that you can eat the whole shrimp, head, shell and all!
Luohan Boiled Chicken-This traditional Yangshou dish uses a black chicken as its main ingredient. This is locally known for its positive health benefits especially for women. Medicinal as well as flavourful Chinese herbs are added. It is then cooked with a special steaming method to create a uniquely nutritious dish.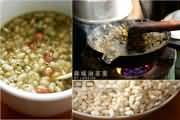 Oil Tea-Produced near Yangshou County, oil tea has a strong salty and spicy taste. Known for its regenerating properties, this local drink is popular among the energetic backpackers who frequent Yangshou. Definitely an acquired taste, it's best to eat this with baba (sticky rice cakes). Visit a local teahouse to discover how this tea is handmade by pounding tea, ginger and garlic together in a mortar.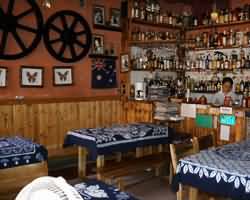 The many tourists at Yangshou have no shortage of places to dine. Fast food chains have recently opened branches at Yangshou, much to the surprise of locals and expatriates alike. Fine dining establishments stand side by side with casual beer bars. Hawker stalls are popular and sell a variety of food including tofu, steamed buns and barbecued.
Your first visit to mostly any town would be incomplete without a culinary adventure. Here is a list of places you should try in Yangshou:
West Street (Xi Jie)
Like its name suggests, West Street is full of Western-style restaurants. Often regarded as too tourist-y, it has its share of good local eateries.
One of these is Cloud 9, at the corner of Chenzhong Road, which offers Sichuan cuisine in a Western setting. They specialize in Yangshou beerfish and the local hotpot.
Hawker stalls along the street offer sweet and savoury local delicacies.
Shouzi Guilin Rice Noodles, Middle Xiancheng Road.
Shouzi serves cheap and delicious traditional Guilin Rice Noodles. What's more, they will refill your soup bowl with hot pork broth for free. Come here for a taste of China's famous dish.
YANGSHOU Market Pantao Road
For an authentic taste of local cuisine head off to the market where the prices are much lower than on West Street. Try the basketsful of Baozi or Jiaozi. These are steamed buns and dumplings come with a variety of fillings.
Mama Moon Rural Dishes, Li Village
Mama Moon's restaurant faces Moon Hill, one of the most frequented destinations in Yangshou. Foods served in this restaurant are the local specialties. Mama Moon uses only the freshest meat and vegetables sourced from nearby farms.
Vegetarian and Halal Dining
Yangshou's most famous vegetarian restaurant is the Pure Lotus Vegetarian Restaurant (An Xiang Su Ying Su Cai Guan) located on Die Cui Lu. A favorite of both locals and tourists alike, come to this restaurant for superb Chinese vegetarian fare. Enjoy their sweet and sour eggplant, vegetarian meatballs and XO "steak."
And at Pantao Road in front of the bus station, is a Chinese Muslim restaurant that serves halal food. They serve a wide variety of noodle and rice dishes for the local Muslim community and other Muslim tourists.
Yangshuo has lots of different style of Chinese and Western restaurants, as well as vegetarian, Indian, Italy and French restaurant; tourist can easy to find one of their favorite restaurants in the street, and it will be satisfy your desire for food. With a doubt, tourist visit to Yangshuo would like to taste the real local food; here we provide you the detail information of those restaurants.
Got questions? Ask us here!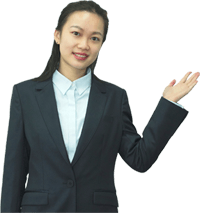 Sally Guo
Travel Advisor