Yangshuo Shopping
West Street is the best-known and oldest commercial center in Yangshuo. Lively shops, booths and makeshift markets are packed in along the pedestrian walkways throughout the day. If you are looking to take home a great souvenir filled with local charm, start at the Yangshuo West Street to find the most unique and fun items. Don't be alarmed by vendors wanting to haggle prices. This is the standard practice and if you are friendly, respectful and quick on your feet, you might just score that special something well below the original amount.
Paintings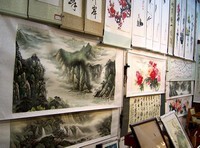 Easy to take along for the rest of your journey, roll paintings travel well and make for great decorative wall hangings back at home. Local artists, inspired by the majesty and mysticism of the surrounding karsts, have created beautiful masterpieces that are on display here in the West Street. Look for popular subjects such as native flowers, bamboo stalks, rugged hilltops, warriors and calligraphy. While various vendors along the road will have plenty to choose from, make your way to Morningsun Gallery on Cheng Zhong Street for an authentic taste of Yangshuo paintings. And be sure to keep in mind that price is always negotiable.
Handcrafts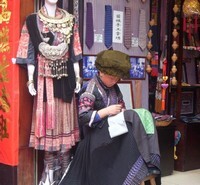 Just as with any other tourist spot in China, handicrafts are popular items here in Yangshuo as well. Booths filled with of Tibetan silver, Yunnan dresses, Dong embroidery and tribal textiles line West Street. If you are feeling a little overwhelmed, which is to be expected, start your hunt at the Dong Xi Fang Shop and go from there. Take your time as your stroll through all the handicrafts, compare prices and don't give in to heavy-handed hawkers right away.
Mask and puppets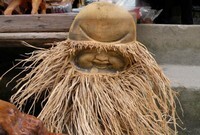 For a colorful and unique token from the city, look for brightly decorated puppets and masks hanging in just about every storefront. Whether they are big or small, expensive or cheap, all of the handicrafts are handmade and very unique from one another. Wooden masks are cheerfully decorated and puppets are usually dressed in traditional, local costume. They are great buys for both kids and adults alike.
Painted Fans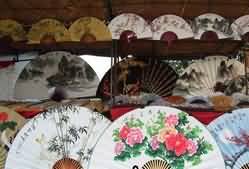 Beautifully painted fans remind visitors of the era when the first westerners explored the vast Orient. Made from thin paper and bamboo, these fans have elaborate landscapes and calligraphy writing delicately painting onto their surface. Just as with the masks and puppets, it doesn't matter the price, you can always be sure that you will get a unique and individualized fan. Look for vendors selling the fans along the Li River and by the stands for incoming boats from Guilin. Be careful when handling and packing up these souvenirs. They are delicate and may wear easily over time.
Image Painting T-shirt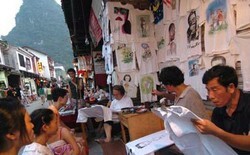 T-Shirts are the tried and true souvenirs from any trip. But here in Yangshuo, the typical tourist T-Shirt is a little different. Booths specializing in image painting t-shirts actually paint your own picture right on the material. They draw your image, or any image you would like, on the shirt of your choice. If anything, it will certainly make for a very unique gift for a loved one back at home.
Local Specialties
West Street in Yangshuo features so many items that it is hard to know what are the best souvenirs from the area. Stick to the suggestions above and also keep an eye out for anything featuring representations of the local karsts. Since these are unique to the area, you rest assured that the item was most likely produced locally. Also, silver and embroidery pieces from small, local tribes are another great, authentic buy. Ask vendors if they have embroidered Zhuang love balls or Tibetan Silver.
For any purchases that might be difficult to take with you on a plane, check with the local Yangshuo Post Office about postage options. Since so many tourists come to the area and buy one-of-a-kind crafts, they are very familiar in ways to safely ship items anywhere in the world.
Got questions? Ask us here!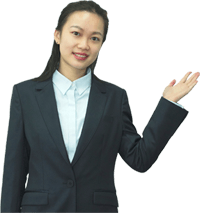 Sally Guo
Travel Advisor