Night Cruise on Peach Blossom River, Guilin
The Peach Blossom River has traditionally taken second place to the famous Li River but no longer. The charm of Guilin at night is a combination of natural landscape and man made attractions and is ably displayed on a night cruise on the Peach Blossom River.
Two night cruises featuring different tour lengths and sites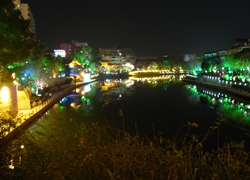 Tour Route 1: Boat Tour from Nanmen Bridge to Feiluan Bridge (duration: 1 1/2 hours) This night boat cruise is designed to experience the original landscape scenery of Guilin, cruising along the river; visitors will see the Karsts Mountains for which Guilin is famous which are lit to deliver a strong visual impact. Minority folk dancing and singing, local opera, and the Wind and Rain Bridge are highlights.
Tour Route 2: Boat Tour from Peach Blossom Wharf to Feiluan Bridge (duration: 50 minutes) This tour is designed for overseas visitors to see a combination of natural landscapes highlighted by the lights on the mountains. Visitors will see folk dancing and singing performed by local people and a live cormorant fishing demonstration performed by local fisherman illustrating this traditional way of fishing.
Note
As of 2015 Summer, this is not recommended and is not available for the most of the time due to fewer customers and not-so-good sightseeing. If you wish to enjoy the real charm of Guilin night view, just enjoy The Two Rivers and Four Lakes Night Cruise.
Got questions? Ask us here!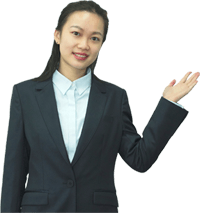 Sally Guo
Travel Advisor