Guilin Seven Star Park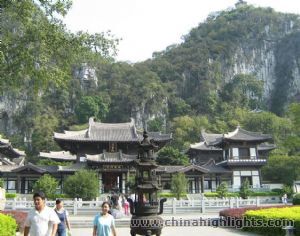 Seven Star Park (Qi xing Gongyuan), is located on the eastern side of the Li River, 1 kilometer from the city center. Deriving its name from a cave called Seven-Star Cave. Seven-Star Park covers an area of 40 hectares. Being the largest comprehensive and most beautiful park in Guilin , it features fantastic hills, rivers, caves and rocks. Located in the center, Seven-Star Hill consists of Putuo Hill with four peaks and Crescent Hill with three peaks. The southern entrance straddles the ancient Floral Bridge . Dragon Retreat Cave near the southern gate houses great numbers of stone tablets.
This delightful park that has been landscaped to encompass hills and natural waterways is a great favorite with the local people and tourists alike. At the end of Jiefang Donglu ( Jiefang Road, East ) and approximately one kilometer from the downtown. Seven Star Park got its name from the seven peaks that are supposed to resemble the star pattern of the Big Dipper constellation nearby - four peaks in the north are called Putuo Hill, three in the south are called Lunar Hill. The famous Seven Star cave is located at the Putuo Hill.
Seven Star Cave (Qi qing yan)
A visit to Guilin would not be complete without a visit to this cave and Reed Flute Cave -- the two largest, most fascinating, and best-known caves in China . Seven-Star Cave is more than one and a half kilometers long. It penetrates several main peaks of Putuo Mountain and can accommodate tens of thousands of people. About a million years ago, it was an underground river channel, which, with the movement of the earth's crust, rose above the surface to become a cavern. The cave is divided into three rock strata. The top stratum is eight to twelve meters higher than the middle stratum, with traces still somewhat visible. The lower stratum is an underground river course, ten to fifteen meters lower than the bottom of the middle stratum. It is this middle stratum that has become a tourist attraction -- an underground gallery of stalactites and stalagmites in formations suggestive of forests or animals. The tunnel is 814 meters long, 43 meters at its widest point, and 27 meters at it's highest. In-cave temperature is about 20 oC. Taking the shapes of stone column, curtain, stalagmite and animals, the cave leads visitors into a marvelous world. The cave has been equipped artificial with a lighting system to fully display the enchanting scenes to visitors. The cave has been a sightseeing spot since the Sui and Tang dynasties more than 1,300 years ago. Over the centuries many poems and other inscriptions have been left behind on its walls by visitors.
Gui Hai Steles' Forest (Gui hai bei lin)
More than 2000 stone carvings done in ancient times and often called" Ancient Calligaphy Art Circles".
Camel Hill (Tuofeng shan)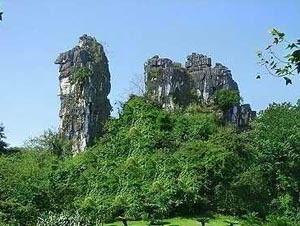 The hill is located in Seven Stars Park . It is 20 meters high looks like a one-humped camel and also like a wine pot. It was called "Pot Hill" in ancient times.
Flower Bridge (Hua qiao)
When the peach flower is blossoming, the red glow in the morning is one of Guilin 's eight famous sights.
Spanning the Xiaodong River , the bridge is the gateway to the Seven-star Park . This 60-m-long stone bridge is located at the juncture of Xiaodongjiang River and Lingjian jiang River . Its eleven arches are as beautiful as rainbows. Built in Song Dynasty, Flower Bridge has a history over 700 years. There is a Wind and Rain Corridor on the bridge. The part of the bridge over water has 4 arches while the part over land has 7. These arches reflected in water are like full moons.
Recommended Guilin Tours Including a Visit of Seven Star Park
4-Day Classic Guilin & Yangshuo Tour
: Visit to Elephant Trunk Hill, Reed Flute Cave, Fubo Hill, Seven Star Park (including the panda house), Li River Cruise, Yangshuo Countryside Cycling
Got questions? Ask us here!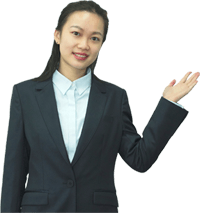 Sally Guo
Travel Advisor