Guilin Reed Flute Cave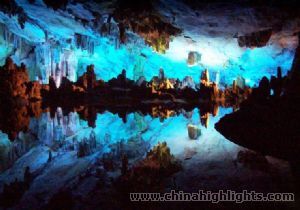 Reed Flute Cave known as "the Palace of Natural Arts " is located in the northwest of Guilin City , 5 kilometers away from the center of the city. It is a cave on the southern shoulder of the Guangming Hill (Bright Hill) and is one of the most extraordinary scenic spots in Guilin. Counted as "must-see" sights in Guilin as well as Elephant Trunk Hill, Fubo Hill and Folded Brocade Hill.
According to a legend, Reed Flute Cave got its name because people believed that the reed by the cave's mouth could be made into flutes. The length of the Reed Flute Cave is 240 meters and offers a majestic fairyland of karst caves with landscape and rural scenery. It is a magic fairyland of stalactites, stalagmites, stone pillars, stone curtains, birds, plants and animals in fantastic shapes and colors, all glistening in colorful lights. Some of them were given names such as Pines in the Snow, Mushroom Hill, Dragon Pagoda, Sky-Scraping Twin, Virgin Forests , Red Curtain, etc. These remarkable scenes in the cave can evoke breathless admiration from domestic and foreign visitors. The cave is highly praised as the ' Huge Art Palace of the Nature'. Tourists began to visit here in the Tang Dynasty. There are 77 stone inscriptions covering many years of history.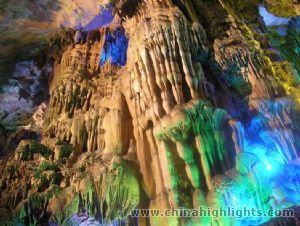 One grotto, which called the Crystal Palace of the Dragon King, can hold about 1000 people. During the war, the grotto served as an air-raid shelter. The highlight in this cave is a great slab of white rock hanging from a ledge like a cataract, with a human-shaped stalactite on the opposite side.
It is said that a visiting scholar tried to write a poem depicting the beauty of the cave. It took him so long to find the right words that he finally turned to stone.
The cave was opened to public in 1962. Famed as the Palace of Natural Art , the cave is now equipped with artificial lighting system to emphasize visual effect.
Tips
Opening time: 07:30 – 18:00 (April 1st- November 30th)
08:00 – 17:30 (December 1st – March 31st)
Price : CNY 120/ person
Phone: 0773-2210889
Got questions? Ask us here!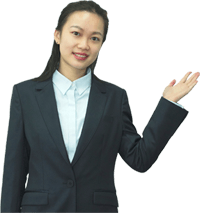 Sally Guo
Travel Advisor