Guilin Farmers and Water Buffalo in Guangxi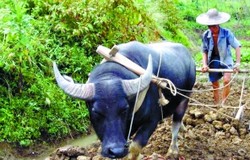 While the Guilin region is known for being a hot tourist destination for travelers from around the world, it is also well-known for the agriculture of the region. Guilin has an estimated 160 acres of developed agricultural land, which is an astonishing amount for an area of that size.
70 percent of China 's population live a rural lifestyle and the rural area around Guilin is typical of this. The farmers in the countryside produce a great variety of produce including fruit, vegetable, sugarcane and of course rice.
The water buffalo is the most important farm animal for these farmers and you will see them working in the field and rice paddies as you explore the lush countryside. The water buffalo is used to till the field and well as a beast of burden. These docile animals graze contentedly along the paths and roads and bath in the waters of the many creeks and steams.
There are a number of tour companies that offer the chance to experience, hands on, what life is like in Guilin for area farmers. Learning more about local Guilin agriculture and the life of local farmers will help you to better gain an understanding of this magnificent region and of the people who make up the rich and diverse culture of this vibrant province.
Crops That Grow Well In Guilin
The fertile land in Guilin ensures that a wide variety of crops are able to grow and thrive in the region. As a matter of fact, the nutrient rich soil also helped Guilin to experience impressive growth and development as a result of the heavy influence of agriculture in the area. Along with the growth and development of the area in the Ming Dynasty (which was between 1368 and 1664), a significant growth was seen in the development and advancement of agricultural processes.
With a mild climate and an abundant year-round rainfall, Guilin's climate is incredibly hospitable to a number of cultivated crops. Some of these crops include the following.
• Bamboo • Paddy rice • Persimmons • Sugar cane • Pomelos • Oranges • Tangerines • Loquats • Pears • Ginko • Water chestnuts
There are of course other crops that are cultivated in Guilin, but the crops listed above are typically the most commonly grown and are also often the most frequently exported crops. Along with the abundant rainfall, Guilin sees plenty of the nice warm days that will result in flourishing crops. With very few, if ever, days that drop below freezing, the crops that Guilin produces will be able to thrive year-round. A lot of the citrus-type crops that grow well in Guilin typically do not thrive when temperatures dip below freezing, so you'll find that a wide variety of citrus crops will do well for farmers in Guilin.
The Primary Farming Tools In Guilin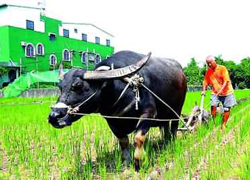 While by all other counts Guilin is developing at a rapid pace in terms of technology, a lot of traditional methods are used in agriculture in the area. For example, tilling the soil with the traditional plowing equipment that made use of the strength of a local water buffalo is still one of the primarily used methods of working the soil on a lot of the farms in the area. This method is affordable to farmers and has been proven effectives for centuries, which can make it a bit of a challenge to convince the farmers in Guilin that they need to update their agricultural methods and practices in order to see an improvement in their overall crop production.
In recent years however, a great deal of importance by government officials has been placed upon the reorganization and advances of agricultural production. With new scientific advances and new technology entering into the arena every day, farmers are being encourages to take advantage of the latest in technological advancements.
Of course, it is always a slow process to change out the traditional methods. This has resulted in a majority of farmers in Guilin sticking to their traditional methods of tending their crops – the manual way. It may be slower and more labor-intensive, but it is effective.
The Income And Financial Standings Of Local Farmers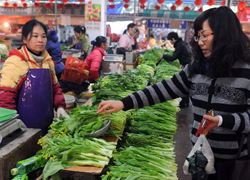 It can often prove to be difficult to understand just how much local farmers can earn from working their land. A lot of it will greatly depend on the weather conditions that they are facing and on the types of crops that they are planting. With the government placing much more of an emphasis on animal husbandry, fishing, and forestry, there has been a significant expanding of Guilin's rural economy.
As a general rule however, the average local farmer in Guilin does not earn a large income from the crops that he will sell. Like all farmers around the world, Guilin farmers can expect to only reap back a small percentage of the value of the crop that they are selling. In recent years the government took steps to cut back on agricultural taxes in an effort to encourage farmers to continue working their land, but these efforts are not truly sufficient to help the majority of hard working farmers dig their way out of poverty.
The increasing difficulty of a Guilin farmer to earn a decent living and work his way out of a poverty situation has often resulted in several younger generations moving out of the family farming business and going to work in one of the many other industries that have started to thrive in Guilin.
With a lack of young fresh men to work on the farms, it can be difficult for farmers to keep up with all of the work that their farms require on a daily basis. While farming labor is often available in the form of migrant workers, the farmers who are already struggling with their own finances may not be able to provide them with a decent income.
Living Conditions Of Local Guilin Farmers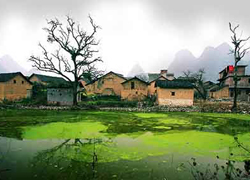 The reality of most farmers around the world is that farming is a very difficult lifestyle. Farmers often live on and work land that has been in their family for centuries, which can instill in them a deep sense of pride in the land that they are working. But it can be a hard and poverty-stricken lifestyle, especially if weather conditions do not allow for a great production of crops one year. An unexpected hard freeze can quickly destroy the tender blossoms on a pear or orange tree, which will mean that production of fruit crops could be cut by as much as 90%. This type of loss of crop production can prove to be devastating to a farmer who is already skirting the edge of poverty.
While a fair number of local Guilin farmers will have other methods of putting food on the table, it can still prove to be difficult to have the money needed to provide an education for children or to even have hot water during the cooler winter months. It is one thing to raise a goat or pig for meat during the winter, but it is another to find the money needed for a winter coat or warm pair of boots.
The often backbreaking work of tending to the needs of a large farm can result in a fair amount of injuries over the course of a farmer's lifetime. Without access to quality medical care, there is often also a fair number of infections and permanent damage seen in the farmers who work so hard tending their crops. This is why it is so important for younger generations to take over working on the farm when their older relatives are physically unable to.
It can be said that the average Guilin farmer lives a quiet rural life; a life that is not without its challenges and poverty-related issues. But it is also a life that is free from the ever-growing air and noise pollution that is so often seen in the larger cities.
Got questions? Ask us here!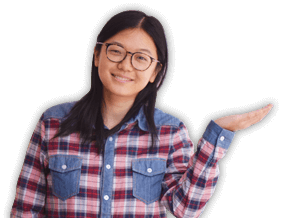 Vanessa Zheng
Travel Advisor