Yangshuo Photography Location and Tips
Guilin owns best world's unique Karst landscape and attracted thousands of photography enthusiasts vying for amazing pictures. This article will elaborate the greatest location for creative photos in Yangshuo, which regarding as has the best scenery and idyllic scenery within Guilin. Here is the instruction for you to go through the best location quickly and effortlessly.
Li River and Natural Scenery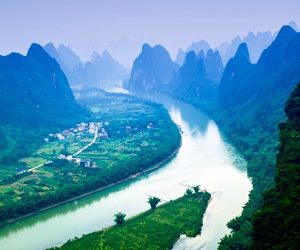 Best Scenic Sites: Xianggong Mountain Town, Laozhaishan in Xingping Town, Yulong River, Green Lotus Peak, Moon Hill
Best Time: spring, summer and autumn
Best light: backlighting
Xinggong Hill:Xianggong Hill is the great setting for professional photography taking the best angle of Li River and Karst formation mountains stretching in the thin fog. Lots of photographers vying there in the early morning for best angles,tours may start early in the morning from Yangshuo at around 3am and takes 1.5 hours to the mountain top, for make sure you find out the best position.
Fuli Bridge: located in Baisha town, 50km away from Yangshuo, it is ancient bridges on Yulong River with more than 500 hundred years, pave by green moss and plants surround by karst peaks.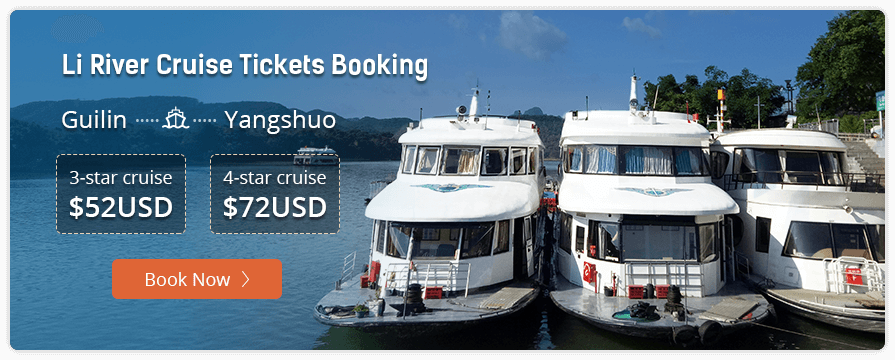 Spring scenery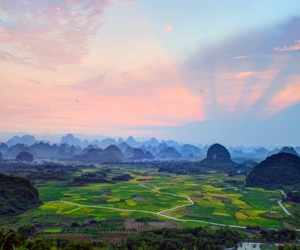 Best Scenic Sites: Cuiping Scenery in Putao Town, color complex on paddy fields, mileless Karst landscape.
Best Time: March and April
Best light: backlighting
Tips: after rain when the air clear up, and light foggy. We will ensure you have the greatest experience regardless of the condition even heavy fog and terrible rains.
Sunrise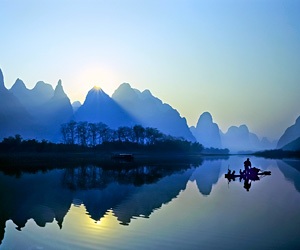 Best Scenic Sites: Green Lotus Peak, Laozhai Hill and Hebao Hill in Xingping.
Best Month:View is different in each season, over all June-August; October- December is the best months.
Best Time: half an hour before sunrise, one hour after sunrise.
Best light: backlighting
Tips: a sunny day with thin clouds, or fog in misty rain, when the sunrise, lighting will be colorize the picture, use your camera testing lighting and enlarge exposure grid 1.5-2 according to the statistic.
Sunset and Golden Sunlight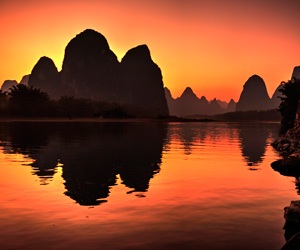 Best Scenic Sites: Xingping, Gaotian, Anshan (near by Gongnong bridge)
Best Month: view is various in each season, unique view before and after storm season in summer.
Best Time: half an hour before sunset, one hour after sunset.
Best light: backlighting
Tips: high visibility weather, sunny day with sunrise, The most special part is that Guilin sunset will changing color for three times, the golden and red clouds appear one hour before sunset for the first time, and then the red sunset glow when the sun falls behind the mountains, the last part is appear brightly glow when sunset in horizon.
Misty Rain in Li River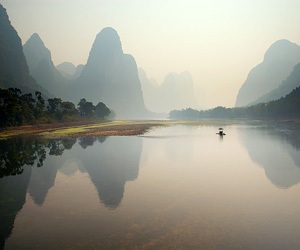 Best Scenic Sites: Xianggong Mountain, Yangshuo Bridge, top on Green Lotus Peak, Top on television Tower, Xingping (Yellow Cloth, Laozhai Hill)
Best Month:Feb to May.
Best Time: in the early morning.
Best light: backlighting
Tips: southerly air, drizzle and relative humidity over 80%. The misty mountain scenery on Li River regarding as the best reprehensive of Karst landscape paintings, photographer might up to the highest point for capture the amazing moments, the higher the wider perspective, your pictures compose with panoramic of Li River, exclusive hidden off-road trails, mesmerizing mountains with light foggy overwhelm it.
Idyllic and Framing Scenery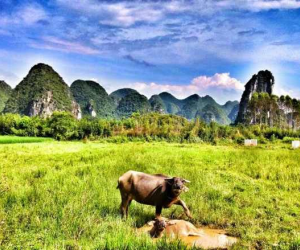 Best Scenic Sites: Cuiping Scenery in Putao Town, Moonhill, Shangri-la scenic spots.
Best Month: April to May.
Best Time: 2 hours before sunset and half an hour after sunset.
Best light: backlighting
Tips: sunlight, water irrigated in paddy fields. The farmlands situate in between Karst Mountains, combining with river through around, farm house, and sometimes you can get shots of local famers working in the fields.
Fisherman and Fishing Lights in Li River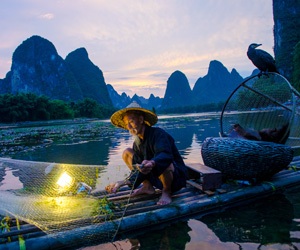 Best Scenic Sites: Xingping (20 Yuan bank note views as backdrop)
Best Month: all year round.
Best Time: one hour after sunset or an hour before sunrise.
Tips: hire a local fisherman for show, he will cooperate with you by nature posture of lighting on his bamboo raft, casting net, cormorant fishing. When nightfall every day, you can see the local fisherman come and punting on Li river, light up a fire lamp like a bright star floating on the water, with counter of peaks as backdrop, the creative of these picture have been publish in many world's famous magazine or TV channel.
Grotesque Caves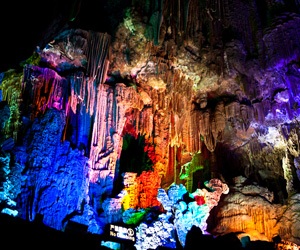 Best Scenic Sites: Lotus Cave in Xingping, Silver Cave in Lipu Town.
Best Month: all seasons, no limitation of weather.
Tips: a certain parts of cave have light, but you can go with torch for better lighting, tripod and shutter line is needed. Shooting inside the cave is not allowed to open flash light, use only tripod and camera shutter to control. Take a bigger grid of 1 -1.5 grid according to the statistic of testing lighting.
River and Mountain Reflection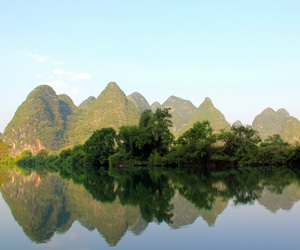 Best Scenic Sites: Yulong River, Yangshuo Bridge, and Yellow cloth shadow in Li River.
Best Seasons: summer, autumn and winter.
Best Time: morning 9am to 4pm in the afternoon
Tips: shallow water, windless, close to river bank backlight, low angle, wideness river is the key point to capture the landscape reflection.
Colorful Autumn Scenery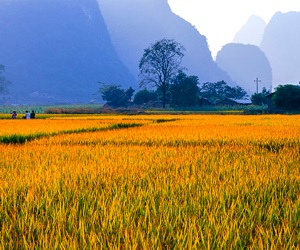 Best Scenic Sites: Yangshuo countryside, Cuiping scenery in Putao town.
Best Months: the end of October to December.
Best Time: 7:00am-10:00am in the morning
Tips: the heaviest time golden color on paddy fields, color changing on trees and with peaks as background. There is strong sunlight during the day, a great difference of temperature during the day and night will create a big contrast of the views.
Got questions? Ask us here!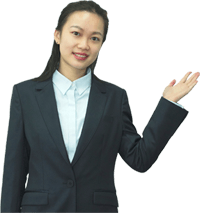 Sally Guo
Travel Advisor