Photography Tips in Guilin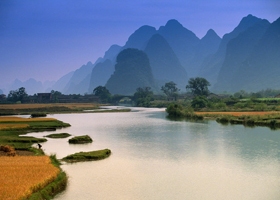 "Guilin's scenery is best among all under heaven." No matter where you come from, you will be amazed by this fairyland. However little information is available for photographers. After reading below tips, you will know when and where to take the best shots.
We have divided suitable scenic sites for photographing into 14 types for your reference:
Spring
Peach blossom: Every March, Peach Blossom Festival is held in Gongcheng. At that time, peach blossoms are blooming in Gongcheng County. Local people and tourists come from different countries go to enjoy the beauty of peach blossoms, tasting the local snacks, dancing Yao-nationality dance and singing peach-blossom songs.
Best scenic sites and months: Gongcheng, March.
Rape flowers: On the way to Yangshuo Countryside road (Yima Village), you can see a sea of yellow flowers--- rape flowers. You couldn't help but stop and take a lot of beautiful pictures. Enjoy it from February to March.
Best scenic sites and months: Yangshuo Countryside road, from February to March. Rhododendron flowers: Yao Mountain is another wonderful place in spring. Rhododendron flowers spread over the whole mountain area. Climbing up or taking a cable car to the top of the Mt. Yao, you will be amazed by the panoramic view of the Guilin city and the surrounding scenery. Best scenic sites and months: Top of Yao Mountain, from April to May.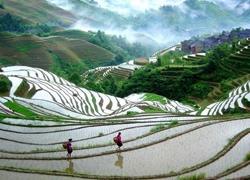 Irrigation of the rice terraces: In spring, enjoying true farming scenes is a must-do in Longji. Every year, at the end of April, or at the beginning of May, the Longji terraced fields are irrigated. After irrigating, the water is shining under the sun. The terraced fields are just like jade belts.
Best scenic sites and months: Longji terraced fields, at the end of April, or at the beginning of May.
Summer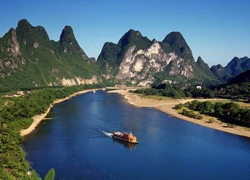 Luxuriant vegetation and green hills: In summer, you will see the bluest sky and the most beautiful green color of Guilin in a year. Around Li River, appreciating all kinds of vegetation and green hills are an unforgettable experience for you. Actually, the best scenery of Guilin comes after summer showers, when the verdant hills are shiny like jade hairpins with clear reflections in the mirror-like Li River. If you are lucky to see the rainbow, welcome to a paradise on earth.
Best scenic sites and months: Yangshuo (Yangshuo Bridge, Green Lotus Peak, TV Tower), Yao Mountain, from May to August.
Clear spring water and waterfalls: Gudong Waterfall Scenic Spot is just like a big natural mountain-park with many kinds of age-old plants where birds live brightly. So we call it "Oxygen bar". It is an excellent way to return to the nature. Please take your camera and record amazing moment.
Best scenic sites and months: Inside this big natural mountain-park, from May to September Autumn
Fragrance of Osmanthus Flowers: Guilin means Osmanthus forest. If you visit Guilin during autumn, the first thing you notice upon arrival in the area maybe the fragrance of Osmanthus Flowers in the air. Osmanthus trees are planted almost everywhere in and outside the city.
Best scenic sites and months: around four lakess, October
Yellow Ginkgo Leaves: Haiyang town is not a big town, which is famous for aggregative yellow ginkgos. There are lots of yellow ginkgoes around the town. Everyone can not help taking lots of photos. The best time to enjoy the yellow ginkgo leaves, it is in the middle of November. Do not go as well earlier or late, otherwise, the leaves are withered.
Best scenic sites and months: around Haiyang town, in the middle of November
Golden Harvest in Longji: Guilin's autumn season is most spectacular in colors particularly in the mountain villages outside the city. The view is absolutely breathtaking, if you stand on one of the top of Longji looking at the magnificent terraced fields in golden fall color extending to the end of the horizon.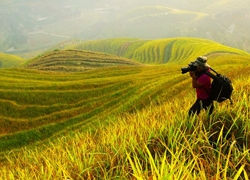 Best scenic sites and months: on one of the top of Longji, from September to October Yao and Zhuang minority villages: Autumn is another good time to travel the villages of Guilin, Yangshuo, and Longji. You can visit traditional wooden farm houses in the Yao and Zhuang minority villages, watching Yao women showing off their long hairs. Biking or hiking to some of the ancient farming and fishing villages to discover their different culture and traditions.
Best scenic sites and months: around Yangshuo and Longji, from July to October
Winter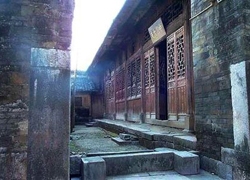 Winter is relatively a low season for tourism in Guilin. However the beauty of Guilin in winter is no less attractive than other three seasons. Located in the subtropical climate zoon, vegetation in Guilin is green in all four seasons. The lowest temperature in Guilin winter is about 4 degree Celsius. Humid weather in Winter Guilin often creates mist giving the beautiful Karst landscape of Guilin dramatic effects. Snows appear in some mountainous regions giving Guilin a special charm.
Jiangtou Ancient Village in Jiuwu Town: Jiangtou Village in Jiuwu is one of the oldest towns in Guilin with the history of more than 800 years. The village contains over 620 ancient buildings most of which were built during the Ming and Qing Dynasties. In the village, ancient wells, long slate alleys, stone arch bridges, wooden carvings on windows and doors deliver a vivid image of what was a affluent Chinese villages in the Ming and Qing Dynasties.
Best scenic sites and months: around Jiuwu, all the year
Fishing-lights on the Li River: When evening is coming, the fishmen begin to row their rafts into the river, hanging up a gas lamp on the rafts, and set down the fishnets to trap the fish, and then drive the cormorants into the river to catch the fish. It's said that the cormorants were tied with a cord around their necks, so that when a cormorant once catch a fish that it can't swallow it down into its stomach, he has to throw it to the basket.
Best scenic sites and months: Xingping County, Yangshuo Bridge, after sunset and before darkness all the year
Watch the sunrise and sunset of Jinkeng terrace field: To watch the sunrise of Longji terrace field, to stay overnight in a longji wooden farm house of Tiantou village is necessary.
There are three viewing points in Jinkeng terrace field, where you can enjoy different views of the scenery. View point No. 1 is best for watching the sunrise, while No. 2 is the best location to view the sunset, and No. 3 get the best panoramic view. Climbing up to view point No. 1 and No. 2 from Tiantou village takes about 15 minutes, while round going to No. 3 takes about three hours. If necessary, you can take a torch and follow the tourist guide to get there.
Best scenic sites and months: View point No. 1 for sunrise, View point No.2 for sunset, June – August, October – December
Li River in misty rain: A famous poet described Li River to people: "the river winds like a green silk ribbon, while the hills are like jade hairpins." Li River in misty rain is the representative scenery of Guilin. Taking a boat on the river is just wandering in a traditional Chinese painting, in which is also a extraordinary admiring of picturesque view on the banks with green hills, rice paddies, bamboo groves, waterfalls, water buffalos, old villages and fishermen floating on bamboo rafts with cormorants.
Best scenic sites and months: Yangshuo (Yangshuo Bridge, Green Lotus Peak, TV Tower), Yao Mountain, early morning from February to May.
Recommended Photography Tours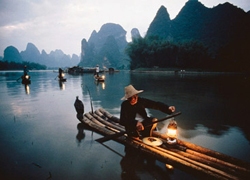 Got questions? Ask us here!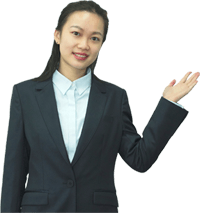 Sally Guo
Travel Advisor