Meet Your Guide
When you choose one of our packaged tours with guide service included, your local guide will meet you at the airport, the railway station, the port or at the hotel.
When the guide is meeting you at a public place like an airport or railway station, he/she will stand in a prominent place holding a sign showing the name of your group. If the Guide is meeting you at your hotel he/she will contact you usually the night before to arrange a suitable place and time to meet in the hotel lobby.
Our Excellent Guide Team

Foster Liu
-English Speaking Guide
Hi! This is Foster from China Highlights. I love travelling and sharing Chinese culture and old stories with my customers. I love communicating with my customers, we will become buddies soon after we shake hands. This possibly is inherited from my mother, who is 93 years old.





Oscar Lu
-English Speaking Guide
Hello,everyone, I'am Oscar,a english guide in Guilin.I am a active, humorous and responsible boy.I love travelling,reading and making friens with people from all over the world.Welcom to Guilin, It's my great honour to meet you and show you around in Guilin.Trust me, I will never dispoint you.Your chose,my honour and your happiness."


LeLe Wei
-English Speaking Guide
Hi, it's lele. I love travelling,so I chose to be a tour guide after my graduation,join in Guilinchina's team being a tour guide with more than 2 years' experience,I enjoy my life in Guilin very much. Everyday I work in this picturesque landscape,I am ready to be your tour guide to explore this great city.

Kobe Chan
-English Speaking Guide
Guilin is my hometown. I reallly love it!
I had been a travel advisor at Guilinchina for almost one year, but I am tour guide of it now! Because I perfer to show the beauty of my hometown to our international friends in person, and also leave a little of it to myself the same time. I love nature, traveling, as well our colorful culture and rich history, so I really love what I am doing!
Guilinchina is a big family, full of love, emthusiam and laughters. I just feel very happy and lucky to be one of the family! I love Guilinchina!
Welcome to my home town - Guilin, and I may be your guide!


Ricky Liang
-English Speaking Guide
Hello, I am Ricky, an English and Cantonese speaking guide in Guilin. I have been a tour guide for over 5 years. I am active, passionate and amiable, with rich professional experience. Welcome to all to visit Guilin and let's discover the special and beautiful sights of Guilin together. My maxim is "Just do it!!"


Avan Xu
-English Speaking Guide
"Doing what you like is freedom, Liking what you do is happiness", exactly. Hi, I'm Avan, a tour guide from Guilinchina. For the moment I do enjoy being a tour guide on such a wonderful land, Guilin. Coz I will meet all kinds of friends from all over the world and be proud of showing you what happens here. I'd like to try my best to make your trip enjoyable and memorable with my great service. Why not join us, looking forward to be your next friend !


Mark Yang
-English Speaking Guide
My name is MarkI graduated from Guangxi Teachers' University, major at Tourism English. To be a tour guide in Guilinchina is a very good job communicates with foreigners from all over the world is my favorite thing in my life.
Learning without thinking leads to confusion; Thinking without learning ends in danger.

Got questions? Ask us here!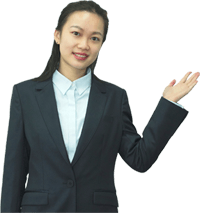 Sally Guo
Travel Advisor