Longsheng Travel
Longsheng County boasts fantastic natural scenery with spiraling rice terraced fields that were built about 700 years ago, and ethnic villages with unique buildings, costumes and customs. It is famous for its beautiful rice terraced fields and ethnic villages in mountainous areas. The well-known Longji (literally meaning "Dragon's Backbone") rice terraced fields were built through many generations¡¯ hard work ever since the Yuan Dynasty (1271-1368). The fields built along the mountains slopes wind from the riverside up to the mountain top, with the highest place of an elevation of 885 meters (968 yards) and the lowest 380 meters (416 yards).
Facts:
Chinese Name: 龙胜
Location: Northeast of Guilin, China
Minority Tribes Around Longsheng: Pingan Zhuang Village,Huangluo Yao Village, Ancient Zhuang Village, Zhongliu Village, Dazhai Village, Jingkeng Village.
Best time for visit:From April to October every year, the annual average temperature is F62.78.
Best way for visit: take a day trip to Longji Rice Terraces (Ping'an Village, Dazhai Village or Guzhuangzhai Village) from Guilin; spend 2 days for staying overnight on the mountain, seeing the sunrise and hiking in Dazhai Village.
How to get to Longsheng: take the bus from Guilin Coach Station to Heping Village belonging to Longsheng. It takes about 2 hours at 20 Yuan or so. Heping Village is located on the roadside between Guilin and Longsheng County, from which visitors will go to the ticket office and buy the entrance ticket.
Recommended Tours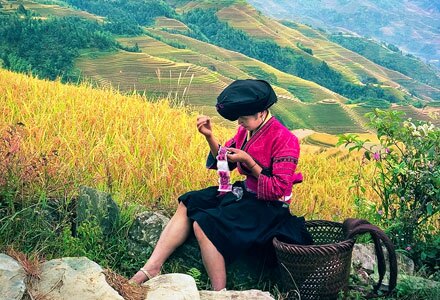 This tour covers all essence of Guilin City, Yangshuo, Li River and Lonsheng for rice terraces and minority culture.
Duration: 4 Days
Operates: Daily
Language: English |Spanish |German |Italian |French |Russian |Janpanese
$509 View details
Common Questions Travelers Asked Us
Transportation from Guilin to Longji?
1. Take a bus from Guilin Qintan Bus Station to Longsheng Bus Station, which takes 3 hours and cost CNY40, then change to take local shuttle bus to Longji Ping'an Terrace Field, it will takes 1.5 hours and cost 15 per person.
2. There are buses in Guilin Train Station that depart for Ping'an or Dazhai, but have to wait full passengers.
When is the best time travel to Longji?
The best time to Longji Terraced is from May to Mid October, your may expect to see the water irrigated in the fields in May, turning green in Summer, and changing golden color means time to harvest in early October. You can see either difference view in Longji during these month.
Where to stay? Ping'an or Dazhai?
Ping'an Village is the first open to visitors, it equip with a lot of hotels and restaurants that people make it as first choose when tour and stay overnight in Longji, There are more hotels in Ping'an than in Dazhai, but it remains quiet. Dazhai is less tourist and comparable less commercial, but If you pick a guesthouse in Dazhai you have to walk a lot more than in Ping'an (and the way with luggage is pretty hard) but both are good picks, they don't makes big difference.
There are two deferent ethnic groups, Zhuang group in Ping'an and Yao group in Dazhai, they have their own customs, and both you can experience.
How long does it hike from Ping'an to Dazhai?
Fristly your have to stay overnight in Ping'an and prepare for the next day hiking trip. The total length of the trip is about 35km and takes more than 6 hours up, If you leave early from Ping'an, you have enough time to visit Dazhai in the afternoon according to the hiking pace. You driver wait you in Dazhai then take you to the next destination.
About the luggage?
If your program says you will stay overnight in Longji, you may expect to how to port the luggage especially the big suitcase, there is some suggestions for you:
1. If you leave for Guilin next day, you must bring all your luggage with you, and ask for the local porter in the parking lot to carry the suitcases up to your hotel.
2. If you come back to the previous hotel in Guilin or Yangshuo next day, we suggest to leave your suitcase in the hotel reception, just bring the daily used stuff with you for avoid put into trouble.
Getting from Yangshuo to Ping'an or Dazhai, Longji?
There is not directly bus from Yangshuo to Dazhai, we suggest hire a driver in Yangshuo for the trip. The whole trip will takes 8 hours, and may expect to spend 3 hours on the way to Longji.