How to Make the Most of Guilin in Just One Day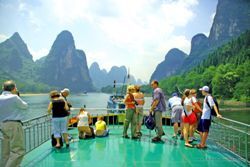 Introduction: Guilin is situated in the northeastern region of the Guangxi Zhuang region in the southernmost part of China. Nestled along the west bank of the Li River, Guilin's name can be translated into English to mean "the forest of sweet osmanthus," which is due to the incredibly large number of the sweetly scented Osmathus trees that line the city streets. Long renowned for the uniquely beautiful scenery, Guilin is a great tourist destination.
Your First Trip to Guilin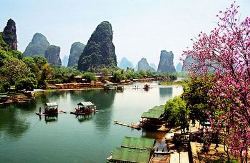 Yulong River in Yangshuo
For a first time visitor to Guilin it can be hard to narrow down the attractions that you want to take in, especially if your time in the city is somewhat limited. Before visiting the city for the first time you should be sure to get a hold of a map of the city, as this will help you to better navigate the region once you arrive.
There are a number of features of the city that will perfectly capture the very essence of Guilin, so it is advisable that you are sure to add these attractions to your itinerary, regardless of how many days you have to spend taking in the sights of this amazing part of the world.
Some of the must-see destinations on your travel itinerary should include the following:
The karst hills that surround the region, including Elephant Trunk Hill.
The caves that offer exploration opportunities, including Reed Flute Cave.
A bit of culture with a visit to Solitary Beauty Peak.
The majestic Li River that offers spectacular scenery and incredible options for river cruises, including the Li River Cruise, which offers a five-hour cruise for those looking to spend a lot of time on the water. There are also numerous evening cruises, which offer amazing opportunity to take in the brilliant sunsets unique to this region.
There are also a number of guided tours that can offer you the opportunity to explore Guilin with a local tour guide who is able to share his or her passion and love for the region with you. Self-guided tours are a great way to move at your own pace, but a guided tour will offer you the experience and the knowledge of a tour guide who knows the region exceptionally well.
Traveling with Children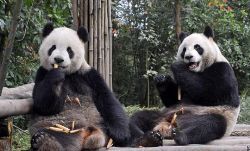 Panda in Seven Star Park
When you are traveling to Guilin with children, you are giving them the opportunity to experience a brand new culture and the beauty of the region; all of which will form into long-lasting memories that will fuel within them the desire to learn more about other cultures on their own future trips.
The attractions that you take in, on your trip to Guilin, will depend entirely on the ages of your children. Older children might thoroughly enjoy exploring the cultural and historical aspects of the city, while younger children might get more enjoyment out of a hiking expedition or a trip to explore one of the many fascinating caves that dots the hills in the countryside surrounding Guilin.
Seven Star Park also offers a small zoo that can give everyone a bit of a break from being constantly on the go during the trip; and it is a great opportunity to view some of the animals that are unique to the region, and perhaps not found in other zoos around the world.
Another great attraction to take in with the kids is Merry Land. Merry Land is a high-tech amusement park that is also attached to a hotel and a world-class golf course. A stop at Merry Land can offer everyone the chance to unwind, while dad hits the golf course for a few rounds.
The Impression of Liu Sanjie is a fantastic light and musical extravaganza that happens on the Li River, it can offer your children a very interesting insight into some of the culture and history surrounding this beautiful region.
Hot Sale Guilin Day Trip
How to Choose Attractions
Elephant Trunk Hill
The attractions that you choose to see during your visit to Guilin will depend greatly on how much time you have to spend in the region, along with what your personal interests might be. Of course, if you are traveling with a large group of people, and with children, you will need to take their own interests into consideration when you are planning your day in Guilin.
Certainly try to take in some of the most popular and quintessential attractions of Guilin, but be sure that you are maintaining a well-balanced itinerary by including some of the attractions and features of this beautiful city that you have an honest interest in. Some of the things that you might want to consider could be taking in some of the many culturally-infused museums in the region.
Visiting the Karst Hill Parkstrong> or some of the other natural wonders of this region is a sure way to fuel your soul with the amazement of all that nature has to offer us.
If you enjoy cycling, then perhaps spending a few hours cycling along the Yangshuo countryside is just the thing for you. This will give you a great opportunity to take in the sights of one of the most breathtaking regions of the world. There are plenty of guided cycling tours for you to take, but you could also set off on your own, with a map and plenty of water and snacks.
Hiking and rock climbing are some other activities that are perfect for the active individual. These types of activities range in expertise level from the extreme beginner to the experienced professional, so be sure that you are hiking or climbing at a level that is appropriate for your current level of experience.
No matter which attractions you decide to do, make sure that you take the time to simply take in the incredible scenery of Guilin. This is one region of the world where it truly pays to take the time to appreciate the splendor that nature has to offer.
Top 5 Guilin Attractions: Elephant Trunk Hill, Reed Flute Cave, Fubo Hill, Seven Star Park, Li River, Longji Terraced Field
Meals in Guilin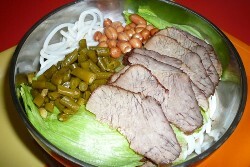 Guilin Rice Noodle
There are numerous restaurants and street vendors offering delicious food to those who are visiting Guilin. You may want to consider sampling some of the specialty dishes that are unique to the region; for example, you might want to enjoy some of the rice noodles unique to Guilin, or enjoy some of freshly caught delights from the Li River. Steamed Li River fish is famous for being so soft and sweet that it actually melts in your mouth with a burst of incredible fresh flavor. Enjoy Beer Fish or some pickled vegetables to round out your meal. Finish up with a really great dessert by way of a traditional sponge cake or a water chestnut cake.
You should take the opportunity to enjoy some of the local beer and wines, all of which will help you to fully embrace the rich culture that Guilin has to offer guests.
check out the information of Guilin Restaurants
Shooping in Guilin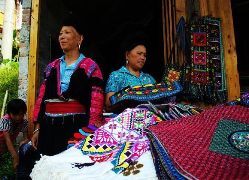 Minority Handicraft
No matter how much time you have to spend in Guilin, you should try to set aside some time to go shopping for some great souvenirs that are unique to the region. Not only will this let you take home some of the delightful crafts unique to Guilin, but it will also give you the opportunity to meet some of the artisans responsible for the beautiful crafts.
The Pine Lake area offers a wide variety of retailers all specializing in Chinese items that you are sure to enjoy. Take a leisurely stroll down Liberation Road, and over Liberation Bridge to find a greatrange of vendors who can all offer you something uniquely interesting. Center Square is another area of the city that can offer shopping diversity.click to see the Guilin shopping information
Guests to the city are encouraged to shop during the later afternoon and evening hours so that they will have plenty of time during the day to wholly appreciate the scenery of Guilin. The lunchtime hours during the summer months can be really warm, but since a lot of locals take this time to escape from the heat, you might find that shopping is a lot less crowded during the lunchtime hours.
No matter what you plan on seeing on your trip to Guilin, it is important that you plan realistically with the amount of time that you have to devote to seeing the city and the surrounding countryside. It is often better to see just a few great attractions in a single day rather than try to fit in a lot of attractions that will leave you stressed about needing to leave soon so you can take in the next.
Plan your time in the city by taking into consideration the time that you will need to move between the attractions that you are interested in. While taxi and bus services do tend to be very reliable in the city, you need to keep in mind that you are visiting a part of the world with a much slower pace than you might find in larger cities. With your map and your itinerary in hand, you are sure to have a really great time with your friends, your family, or just on your own as a solo traveler.